---
---
A Reel Life film section
Issue: Winter 2016
Our Kind of Traitor (2016) movie review
An Honourable Man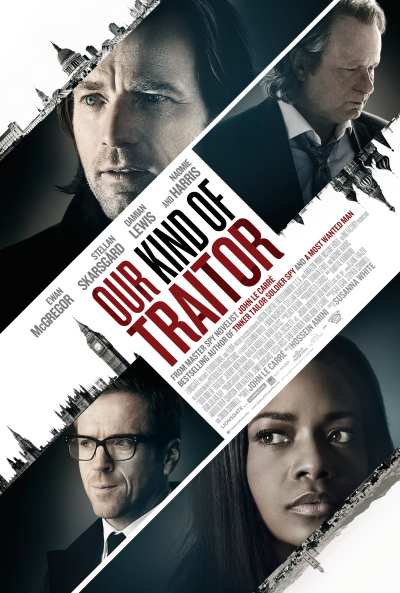 A British couple on holiday find themselves caught up with the Russian mob, and a mob accountant's desire to save himself and his family from imminent death.
Perry (Ewan McGregor) and Gail (Naomie Harris) are repairing their relationship in Morocco when Perry encounters Dima (Stellan Skarsgård). Perry finds himself reluctantly befriended by Dima, and then asked to carry a USB stick to MI6.
And so begins a spy story reminiscent of a John Le Carré story, because it is a John Le Carré story.
Perry and Gail return to London only to find that they are called upon to act as go-betweens. They are basically two nice people, an academic and a barrister, whose compassion and sense of 'fair play' won't let them walk away.
Dima is the relic of bygone days when even mobsters were honourable men. But the new mob prince is not so trustworthy. Are MI6?
Dima's family are his priority, Dima's information is MI6's priority. As the story unfolds we see the traps that characters are setting for themselves and others. So much is against Dima, and he has to trust strangers with his family's lives, and his own.
The web of motivations and cross-purposes, the possible unfaithfulness of any character, all these things combine to create trap after trap that must be navigated.
Carefully crafted in story and visuals, with believable performances and interesting settings, Our Kind of Traitor is and engrossing tale waiting to be enjoyed in full.
Links to official sites below
by Ali Kayn
Australian release 14 July 2016
US release 1 July 2016
For credits and official site details, see below
Search Festivale for more work by the film-makers below.
See also:

for movie, TV show, or person

Just the facts:

Title: Our Kind of Traitor (2016)
Written by: John le Carré (novel); Hossein Amini (screenplay)
Directed by: Susanna White
Running time: 107 mins
Rating:

---

The Players: Ewan McGregor, Stellan Skarsgård, Damian Lewis, Naomie Harris, Mark Stanley, Alicia von Rittberg, Jeremy Northam,

---

Official website:Facebook
http://www.ourkindoftraitor-movie.com.au
www.ourkindoftraitorfilm.com
Twitter

IMDb entry

---

For session times of current films, use the cinema listings on the Movie links page. For scheduled release dates, see the coming attractions section.

For more information about this movie, check out the internet movie database (IMDb).
For the latest additions to Festivale, check out the change history section.
For posts about Melbourne events, places, news, reviews, giveaways, see our Facebook Page: