---

Home (cover) > Reel Life (movie section) > Film Reviews > 2016
---
A Reel Life film section
Issue: Winter 2016
Star Trek Beyond (2016) movie review
Our Starfleet Friends in Peril



Buy from Amazon, help pay for the site





Tweets by EditorReelLife

For the latest news, reviews, features and stuff about Melbourne and Victoria, see our Facebook page:

Just want posts about movies and DVDs? Try Reel Life's Facebook Page:

For the latest additions to the Usual Questions project, and other posts about writing see the Facebook page: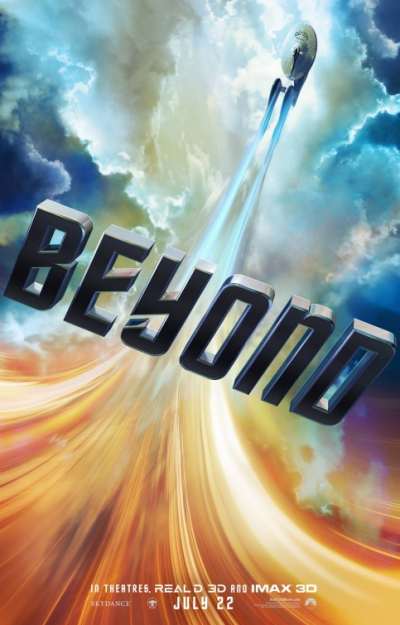 This is where the frontier pushes back.
In "Beyond" the Enterprise crew explores the furthest reaches of uncharted space, where they encounter a mysterious new enemy who puts them and everything the Federation stands for to the test.
It's a new universe, an alternative Kelvin Timeline, but with old friends and relationships retooled for a contemporary viewing audience.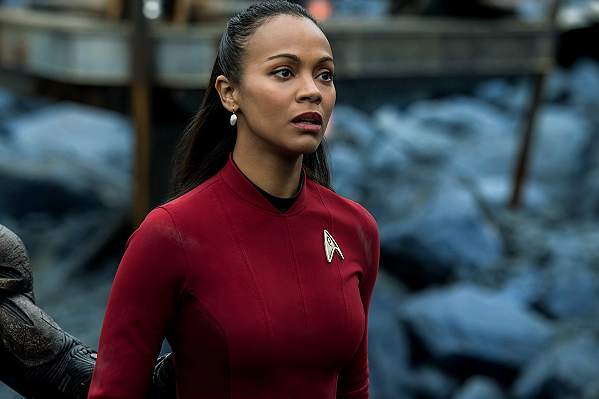 It's no secret that I love Uhura, brilliant, brave, flippy and altogether embracing life - and Spock. The respect between the two characters in the original has become a relationship in this timeline. The original series, and even the subsequent series, did not really take on the various dynamics that are possible. There was some in Keiko and O'Brien, but mostly demonstrating that relationships don't work. The relationship between Worf and Dax did offer interesting stories, but again, there was an episode 'proving' that couples can't work together. Worf and Kaylar was fascinating, and sadly short-lived.
The Uhura-Spock break-up is part of an important plot arc, and in classic Trek tradition, provides opportunity for humour as in this clip.
Just for fun the only other character in the Kelvin Timeline revealed to be in a long-term relationship is Sulu.
The script being co-scripted by Simon Pegg (Scotty) and Doug Jung (et al.), it is no surprise that Scotty has a strong role in the film. He is an ordinary man in extraordinary circumstances who meets the unknown with humour. Humour has always been an important part of Trek. Some critics have suggested that fans love the humour, and that the byplay between the characters draws the viewers in, and by understanding the running jokes, the audience feels like 'part of the family'.
We find added levels of humour in the previous clip because we know that there is a demonstrated antipathy between Bones and Spock. One that we consider more like teasing than dislike. When Scotty meets Jaylah, he doesn't fight, he tries to defuse the situation, as in this clip.

Jaylah is typical of the reboot's strong, interesting women. She has beautiful make-up, an interesting costume, and kick-ass fighting and engineering skills. She is an important ally for the crew.
And speaking of costumes, there are enough costume changes in this film to keep the costumer fans busy for a long time - probably the next film, which has already been announced (see Reel Life's Facebook page for press releases)

Star Trek Beyond offers our characters an adventure, and a chance to evaluate the respective courses of their lives. It is more action film than science fiction. It has extra terrestrials, it has space ships and strange weapons, but our characters are facing peril and making choices, and it is the characters, and their decisions, not some whizbang scientific magic that wins the day.
For more photos, trailers, and Rhianna's Star Trek Beyond music video, see Annie's review of Star Trek Beyond.
Facebook: facebook.com/StarTrekAU
Twitter: @ParamountAU
Instagram: @ParamountAU
#GoBeyond

by reviewer Ali Kayn
Australian release July 2016
For credits and official site details, see below
Search Festivale for more work by the film-makers below.
See also: Another trailer on YouTube

for movie, TV show, or person

Film commentary and upcoming movie release dates at reel-life.info

Just the facts:

Title: Star Trek Beyond (2016)
Written by: Simon Pegg & Doug Jung and Roberto Orci & John D. Payne & Patrick McKay (written by); Gene Roddenberry (television series "Star Trek")
Directed by: Justin Lin
Running time: mins
Rating:

---

The Players: Chris Pine, Zachary Quinto, Zoe Saldana, Simon Pegg, Idris Elba, Karl Urban and Sofia Boutella

---

Official website: www.startrek.com
IMDb entry

---

For session times of current films, use the cinema listings on the Movie links page. For scheduled release dates, see the coming attractions section.

For more information about this movie, check out the internet movie database.
For the latest additions to Festivale, check out the change history section.
For posts about Melbourne events, places, news, reviews, giveaways, see our Facebook Page: