---
---
A Reel Life film section
Issue: Summer 2015
Steve Jobs (2016) movie review Machinations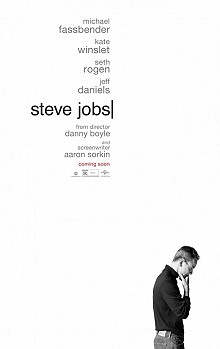 Steve Jobs is a biographical film, it is a portrait of a man whose ego is the protagonist of the film. The ego is larger than the myth, larger than the man, and larger than the impact of the technology that man introduced to the world.
Steve Jobs was the face of Apple. He wasn't THE coder, or THE engineer, he, as he says in the movie, "Played the orchestra". He claimed the vision and spread the word of it.
Steve Jobs the movie is set backstage at three pivotal product releases of Jobs' career. This is a clever device from scripter Aaron Sorkin (Walter Isaacson wrote the book). We meet his child, her mother, and the people who Job left behind, who were, ultimately, the people behind the man.
There is no doubt that he was an icon to many. His marketing strategies were in some part largely responsible for the success of his machines. Like Bill Gates (Microsoft), his machines worked using operating systems that they got from other sources. In the case of the Apple, the WIMP interface (Windows, Icons, Mouse, Pull-down Menu) and the iconography was designed by Xerox.
So was he really a great man? Or a mastermind? And should we, the community at large, give a 'great man' a pass on their behaviour? For some reason great minds, great writers, great artists are seen as outliers who by definition operate outside the rules.
Certainly the Jobs in the film behaves outrageously, driven by great vision, or great vision, and whether for the greater good, is up to the audience to decide.
Nicely paced, well-staged, and nicely performed. Well worth a look.
by Ali Kayn
Australian release 14 January, 2016
See the trailer
For credits and official site details, see below
Search Festivale for more work by the film-makers below.
See also:

for movie, TV show, or person





Just the facts:

Title: Steve Jobs (2016)
Written by: Aaron Sorkin (screenplay); Walter Isaacson (book)
Directed by: Danny Boyle
Running time: 122 mins
Rating:

---

The Players: Michael Fassbender, Kate Winslet, Seth Rogen,

---

Official website: www.stevejobsmovie.com.au
IMDb entry

---

For session times of current films, use the cinema listings on the Movie links page. For scheduled release dates, see the coming attractions section.

For more information about this movie, check out the internet movie database.
For the latest additions to Festivale, check out the change history section.