---
---
A Reel Life film section
Issue: Winter 2016
Swiss Army Man (2016) movie review
Man's Best Friend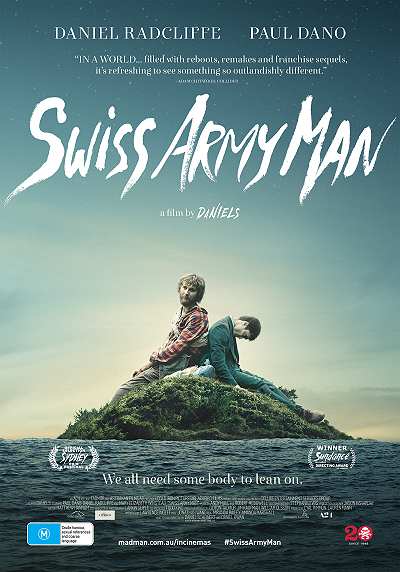 Lost on a lonely island, Hank is about to end it all when he finds a dead body to keep him company. The body turns out to a amazingly useful - a swiss army man.
Before you go there, this is not a story about cannibalism. Hank (Dano) is lonely, bored, hungry, and reduced to sending messages out to sea on litter. He starts small and builds increasingly complicated rubbish ships.
Just as he is about to give it all up, he sees a body on the beach (Radcliffe). Will it be friendly?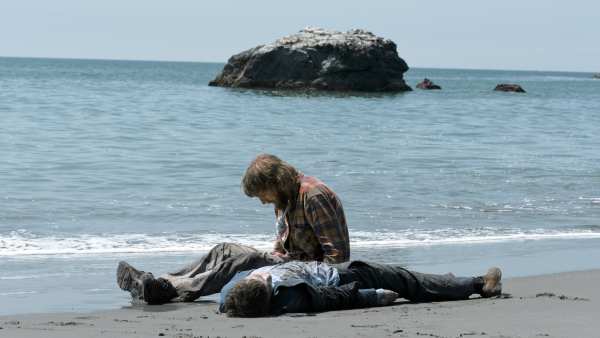 Let's not get bogged down with reality here. Swiss Army Man takes a step out of the mundane and real with the corpse who shall be known as Manny. The farts from his decomposing body propel him across the water with Hank riding him. When they next reach shore, Hank decides to take Manny with him as he tries to find rescue.
Manny proves himself useful in many ways, and as the journey progresses he begins to communicate, asking questions about the nature of life, and Hank's life in particular.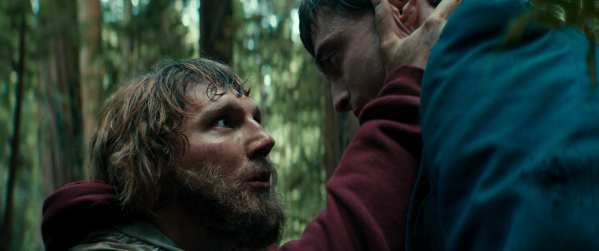 Hank builds increasingly complicated sets as he works to survive, and to trigger responses in Manny. He is also willing to try a little role play.
The result is a delightful film that takes chances in order to examine our world and our place it in. It is amusing, entertaining, sad, and ultimately an example of clever filmic storytelling.
Links to official sites below
by Ali Kayn
Australian release 14 July 2016
US release 1 July 2016
For credits and official site details, see below
Search Festivale for more work by the film-makers below.
See also:

for movie, TV show, or person

Just the facts:

Title: Swiss Army Man (2016)
Written by: Dan Kwan, Daniel Scheinert
Directed by: Dan Kwan, Daniel Scheinert
Running time: mins
Rating:

---

The Players: Daniel Radcliffe, Paul Dano, Mary Elizabeth Winstead,

---

Official website: http://swissarmyman.com
IMDb entry

---

For session times of current films, use the cinema listings on the Movie links page. For scheduled release dates, see the coming attractions section.

For more information about this movie, check out the internet movie database (IMDb).
For the latest additions to Festivale, check out the change history section.
For posts about Melbourne events, places, news, reviews, giveaways, see our Facebook Page: