---
---
Janet Evanovich
answers the Usual Questions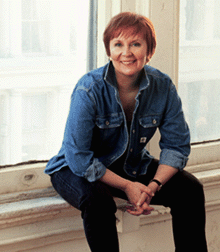 Janet Evanovich has an enthusiastic following, especially of her Stephanie Plum titles (although we at Festivale have a soft spot for the Metro Girl Alex (Barney) Barnaby).
We met Ms Evanovich at a Sisters in Crime function in Melbourne, Australia. Rumour has it that, since leaving her readers cliff-hanging at the end of novels in a most nefarious way, she has been known to sign herself "bitch evanovich". Gotta respect that.
Evanovich says, "It turns out I'm a really boring workaholic with no hobbies or special interests. My favorite exercise is shopping and my drug of choice is Cheeze Doodles.
I read comic books and I only watch happy movies. I motivate myself to write by spending my money before I make it. And when I grow up I want to be just like Grandma Mazur." (from her online bio)
Has your interaction with fans, for example, at conventions, affected your work?
No.
Is there any particular incident (a letter, a meeting, a comment that stands out?
Recently I was on a panel at the LA Times Book Festival and I used a foot long rubber penis as a prop. That was pretty memorable.
Do you have a favourite author or book (or writer or film or series) that has influenced you or that you return to?
I've been greatly influenced by Donald Duck and Uncle Scrooge comics.
Who is the person you would most like to be trapped in a lift with? or a spaceship?
Indiana Jones.
Who is the person you would most DISlike to be trapped in a lift with? Or a spaceship?
Bubba.
What would you pack for space? (Is there a food, beverage, book, teddy bear, etc that you couldn't do without?)
Krispy Kreme doughnuts and Cheez Doodles.
What is the most important thing you would like to get/achieve from your work?
Financial independence.
What is the special satisfaction of your work?
Making people laugh.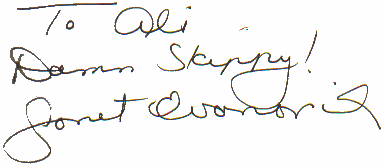 submitted by Ali Kayn
May 2001
For other answers to The Usual Questions Click here
Web site: www.evanovich.com



For posts about Melbourne events, places, news, reviews, giveaways, see our Facebook Page: