---
---
James Walley
answers the Usual Questions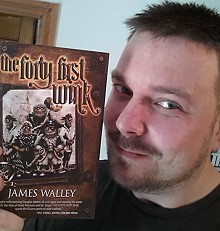 Has your interaction with fans, for example, at conventions, affected your work?
Sadly, we don't get many conventions in the UK, which is a shame, because I'd love to be part of one at some point. In terms of fan interaction, I've found that this is largely a very good thing. I hesitate to use the word "fan" yet, since The Forty First Wink is only a baby in terms of how long it's been out, but the positive response it's had has definitely spurred me on to write more in the series.
Is there any particular incident (a letter, a meeting, a comment that stands out?
Certain comments made in reviews have definitely made me smile and stayed with me. Being likened to Douglas Adams and Terry Pratchett was a very big deal for me, and basically anything that makes me feel like all the hard work was worth it.
Do you have a favourite author or book (or writer or film or series) that has influenced you or that you return to?
The Hitchhiker's Guide to the Galaxy by Douglas Adams has always been a massive favourite of mine, and has certainly been an influence. I love anything that is slightly (or hugely) out of the ordinary, original, and just plain demented.
Who is the person you would most like to be trapped in a lift with? or a spaceship?
Timbers, a main character in The Forty First Wink, would be handy to have with you in a stranded elevator. He's reckless, frenetically enthusiastic, and best of all, small enough to lob through the little emergency hatch. He would do it, too. And a spaceship? Someone who knows how to fly a spaceship, I think that would be my first choice.
Who is the person you would most DISlike to be trapped in a lift with? Or a spaceship?
The xenomorph from the Alien movies. Although what it'd be doing in an elevator, I have no idea.
What would you pack for space? (Is there a food, beverage, book, teddy bear, etc that you couldn't do without?)
I'm assuming that fairly important things like oxygen would already be available in my spaceship, so I'll say jelly beans. I would say a couple of crates of beer, but being drunk in space is just asking for trouble. Plus, I love jelly beans.
What is the most important thing you would like to get/achieve from your work?
I would love for something I wrote to endure. To be still picked up and enjoyed long after I have gone (presumably into space, judging by the last few questions).
What is the special satisfaction of your work?
Getting to the end of a chapter, and finishing it with a tempting little cliffhanger. On the one hand, it's a buzz to think about the hopeful jaw drop it will bring from the reader, and on the other hand, it makes you want to carry on writing, to get to the next part of your story.
submitted by James Walley
1 Jul 2014
For other answers to The Usual Questions Click here
Just the facts:
Born: Sunny old Stoke on Trent (UK), back in the not so sunny seventies.
Resides: Still in the UK, with aspirations to hang my hat Stateside some day.
Bibliography/Awards:
The Forty First Wink (Released June 2014 through Ragnarok Publications)
Santa Claus Wants You Dead (To be released Sept 2014 through Fireside Press as part of the Weird Wishes anthology)
Winner of the Qwillery Debut Author Cover Challenge for The Forty First Wink

Web site:
Facebook

For posts about Melbourne events, places, news, reviews, giveaways, see our Facebook Page: