---
---
Laurence O'Bryan
answers the Usual Questions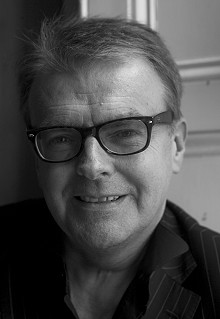 Thriller author Laurence O'Bryan says, "I am an author and survivor. I grew up in Ireland. That means I have strong opinions about a lot of things."
First published in a school newspaper when he was ten, O'Bryan is a member of the Irish Writing Centre, the Irish Writers Union, two "live" writing groups in Dublin and promotes other writers through my site BooksGoSocial.com.
Has your interaction with fans, for example, at conventions, affected your work?
No, research and reading affect my work. But I do enjoy meeting readers and other writers.
Is there any particular incident (a letter, a meeting, a comment that stands out?
Making an after dinner speech that was supposed to go on for 45 minutes! I arrived at the Southern California Writers' Conference and saw the schedule on the Saturday morning. I had two workshops and the after dinner speech. Then I saw the amount of time allocated. And I was eight hrs away from my time zone. I did it, and it was fun. I surprised myself!
Do you have a favourite author or book (or writer or film or series) that has influenced you or that you return to?
The Lord of the Rings is the only book I have read more than once. I aspire to its creativity and its sense of adventure.
Who is the person you would most like to be trapped in a lift with? or a spaceship?
Mata Hari. She would have great stories and might make good company.
Who is the person you would most DISlike to be trapped in a lift with? Or a spaceship?
Adolf Hitler. Not only did he have a bad temper and weird ideas, he had a problem with flatulence.
What would you pack for space? (Is there a food, beverage, book, teddy bear, etc that you couldn't do without?)
A box of chocolates and a well stocked Kindle.
What is the most important thing you would like to get/achieve from your work?
To reveal the truth about the evil that those in power inflict on the rest of us.
What is the special satisfaction of your work?
Discovering the truth and retelling it in another way.
submitted by Laurence O'Bryan
18 July 2014
For other answers to The Usual Questions Click here
Just the facts:
Born: Dublin
Resides: Dublin
Bibliography/Awards:
The Istanbul Puzzle 2012
The Jerusalem Puzzle 2013
The Manhattan Puzzle 2014
Shortlisted for Irish Crime novel of the year 2012
Web site:
lpobryan.com
Facebook


For posts about Melbourne events, places, news, reviews, giveaways, see our Facebook Page: