---
---
Melia McClure
answers the Usual Questions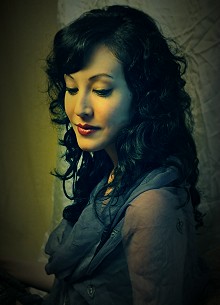 Melia grew up dancing and acting, and in addition to working extensively as a writer and an editor, she has appeared on film, television and stage, and has performed at The Museum of Modern Art in New York.
Has your interaction with fans, for example, at conventions, affected your work?
I adore interacting with readers. But when I write, I listen to my own voice.
Is there any particular incident (a letter, a meeting, a comment that stands out?
A week after my novel The Delphi Room was released, a woman who loved the book posted a comment online: "Oh my God. Literally no words." That brought tears to my eyes.
Do you have a favourite author or book (or writer or film or series) that has influenced you or that you return to?
My literary tastes are broad, and I'm loath to cite just one or a few favourites. My first book contains influences from film, specifically classic film, so I immersed myself in the Golden Age of Hollywood.
Who is the person you would most like to be trapped in a lift with? or a spaceship?
I would love to mine da Vinci's brain as we go shooting through the galaxies. I'd have to make sure a translator was along for the ride.
Who is the person you would most DISlike to be trapped in a lift with? Or a spaceship?
Any psychopath.
What would you pack for space? (Is there a food, beverage, book, teddy bear, etc that you couldn't do without?)
Pen, paper, paints, tea, champagne, Rumi's poetry.
What is the most important thing you would like to get/achieve from your work?
The knowledge that I have been true to myself, and that my truth has resonated with people in a way that is ultimately healing.
What is the special satisfaction of your work?
When a creator is visited by that elusive thing called the muse, it is one of the greatest possible joys.
submitted by Melia McClure
1 August 2014
For other answers to The Usual Questions Click here
Just the facts:
Born: Vancouver
Resides:
Bibliography/Awards:
The Delphi Room
Her fiction has appeared in The Danforth Review and been shortlisted in the Canadian Broadcasting Corporation National Literary Awards.

Web site:
www.meliamcclure.com
Twitter: @MeliaMcClure


For posts about Melbourne events, places, news, reviews, giveaways, see our Facebook Page: