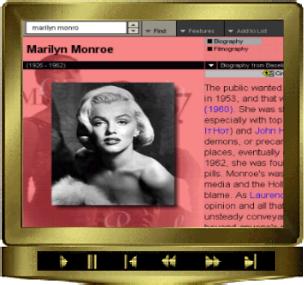 With movie databases, such alliances are particularly important because there are new movies coming out all the time and actors and other film makers move to prominence and require biographies because there is more audience interest in them. Cinemania 97 includes the following:
Leonard Matlin's Movie and Video Guide, 1997;
5001 Nights at the Movies by Pauline Kael;
The Film Encyclopedia, First Edition
Roger Ebert's Video Companion;
The Encyclopedia of Film (Baseline II, Inc); and
The Motion Picture Annual 1996
These are all well-known sources of information, and the asking price for the CD is less what it would cost you to get all this in print. Of course, it doesn't look anywhere near as cool on your bookshelves, but then your books can't play film clips.
Myself, I recommend film buffs pick up both Cinemania 97 and the All Movie Guide. They attack the material from slightly different angles.