---
---
Issue: Summer 2015-6
The Scam (Sep, 2015) book review
Never Underestimate a Red Bandage Dress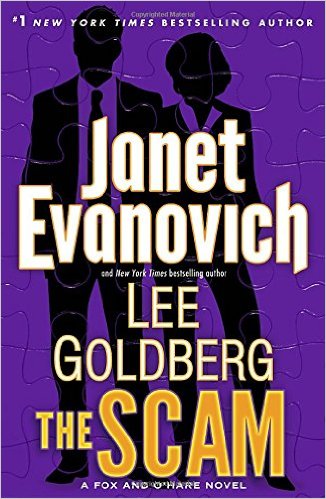 "Kate O'Hare bought her Ford Crown Vic at a police auction for abused cop cars. The dented, Bondo-patched four-door beast wasn't the kind of ride that usually appealed to attractive, professional women in their early thirties. Of course, most of those women didn't accessorize their wardrobe with a Glock, an FBI badge, and a small belly scar from a knife fight with an assassin."
I read it twice. An FBI agent and the con man who she caught (twice) team up for a series of undercover assignments taking down "major-league criminals who couldn't be caught through legal means" for the FBI.
Yep. When I went back to review the quotes I'd marked during my first reading I got so caught up that I re-read the whole book. The Fox and O'Hare series by Evanovich and Goldberg is moreish. The stories have the authors' signature wit, charm, and speed.
This is book 4 in the series, although there are three short stories as well. You could probably read The Scam without having read the previous stories, but why deprive yourself? Read them all, preferably in order.
This trip out has O'Hare and Fox taking down a casino owner who is laundering money through the casino, and a Hawaiian bad guy who is targetting Jake's friend. Jake of course is Kate's father, a retired black ops agent who believes in teaching his daughters the finer things in life like, always carry a paper slide with you because you never know when you'll need to kill someone.
Stylish, fun, a bit of danger, a touch of romance and flirting, and a satisfying light-hearted read.
Treat!! Read the Fox and O'Hare short story prequel The Caper online.
Buy from Amazon.com
For posts about Melbourne events, places, news, reviews, giveaways, see our Facebook Page: