---
---
Issue: Summer 2015-6
Tricky Twenty-Two (November, 2015;) book review
Stephanie Plum Goes to College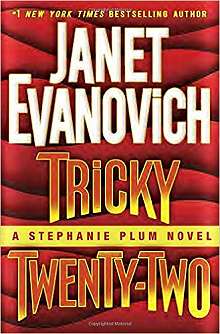 Stephanie Plum is sent after a popular frat boy. Steph and Lula in a frat house just has to turn ugly. Gobbles has been charged with attacking the college president. When said president is gunned down Steph, homicide cop Joe Morelli and the super-hot, super-security guy Ranger are drawn into the investigation.
Stephanie Plum is not the world's best bounty hunter, but she is the luckiest. Apart from an almost inexplicable knack of finding skips, she has a hot boyfriend (cop Morelli) and the amused interest of another alpha male, Ranger.
She prevails through determination, an ear to the local grapevine in 'The Burg', and a willingness to just keep trying. Her exploits are legend, occasionally dangerous, and usually as messy as a pie fight.
This is the 26th Stephanie Plum story (there are four between the numbers stories as well. It's really not necessary to read the Stephanie Plum stories in order.
Janet Evanovich has her own style, part humour and part romance. She has a fondness for her characters that doesn't prevent her from showing them at their worst. Her books are a quick read. Like the donuts Steph loves so much, these books are quickly gobbled down and just a bit more-ish.
For posts about Melbourne events, places, news, reviews, giveaways, see our Facebook Page: