---
---

Issue: Winter 2016
Snow Your Own Way
Whether it's by ski, snowboard, snow shoe, toboggan or dog sled, Victoria's alpine region can be enjoyed be all. Within easy driving distance of Melbourne, Victoria's snowfields are the most accessible in Australia making for the perfect winter short break.
Falls Creek
Falls Creek is the ideal place for beginners to hit the slopes. With more than 65 kilometres of free-to-access cross-country trails, it is also Australia's home of cross-country skiing. Those happy to stay off the skis are also well catered for, with more snow play options than ever this season. A new toboggan slope is set to open at the Village Bowl, accessible via the free Gully Chairlift.
For a snow adventure of a different kind, Falls Creek's new Fatbike trails enable visitors to explore the mountain on two wheels. Designed to be shared by snowshoe-ers and cross country skiers, the new Fatbiking trails take adventurous snow bunnies through the alpine terrain, for free. For the first time this season, Fatbikes will be available for hire at the resort.
Snowshoe fans will revel in a new event, The Big Foot Trail Run (17 September) - the first of its kind in Australia. To be completed on foot or on snowshoes (depending on conditions) the extreme race will take place over two distances, 26 kilometres or 42 kilometres, starting and finishing in the resort.
New Kid's Snowmobiles will be available during peak periods, offering kids the chance to drive their own snowmobile on a specially designed mini circuit. And for the perfect ending to the day, snow-goers can enjoy a one-hour Summit Sunset Tours, departing from the Village Bowl at 5pm on Thursdays to take in breathtaking views over the High Country with a glass of sparkling and a gourmet picnic hamper.
Mt Buller
Located a three hour drive from Melbourne, Mt Buller is the most accessible major snow resort in Australia. It has the largest lift network in Victoria and is perfect for a "mid-week sneak". With three terrain parks, it is arguably the best Victorian resort for terrain park snowboarding.
Mt Buller has the largest snow-making system in Victoria; its automated network of 244 guns could cover the MCG in 30 centimetres of snow in about two hours. This year, 11 new snow guns will extend snow-making to the bottom section of The Chute and top up coverage on key runs. Snow bunnies can choose to ski or board Buller's many runs while tobogganing, sled dog tours and snowshoeing provide great alternatives.
For the first time this year, Mt Buller will offer Mountain Safe courses in response to a growing demand from alpine enthusiasts seeking skills to be safer in the backcountry. An introductory five hour training session at Mt Buller will cover basic skills such as use of safety and rescue equipment, terrain awareness, companion rescue, snowpack assessment and decision making.
A short drive or stunning snowshoe walk from Mt Buller, Mt Stirling is an ideal destination for backcountry skiing, snowboarding and cross-country trails. The Alpine Winter Camp offers ski-in, ski-out accommodation above the snowline, with seven tents on raised, insulated platforms and a central tepee for dining and socialising.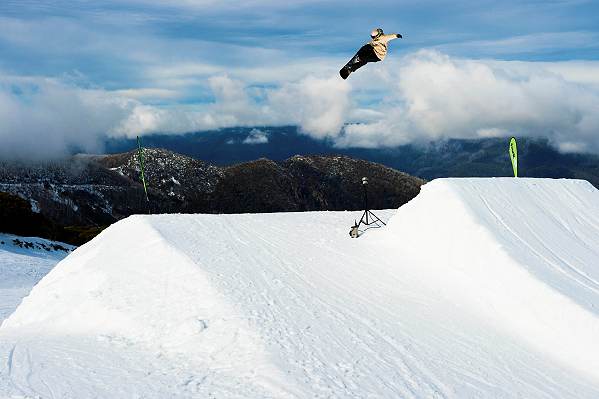 Mt Hotham
As Australia's highest alpine village, Mt Hotham is known as the powder capital of Australia. It is arguably the best Victorian resort for downhill snowboarding with great black runs and back-country skiing. Intermediate-advanced skiers and boarders can advance their techniques here with Master the Mountain and Snowboard Masterclasses lead by Mt Hotham's top ski and boarding coaches. Females are well-catered for with Hotham's Women's Week (25-29 July 2016) and Friday Afternoon Club designed especially for women.
Those who like their snow fresh can be sure to find it here, with Heavenly Valley chairlift set to open at 7.30am Wednesday to Sunday during winter. Mt Hotham's eight seater Snow Kat goes beyond the boundaries to access untracked powder in the side country. Both are included in the price of a lift pass.
A new Mount Hotham Alpine Resort Village is set to be developed later this year and in the meantime, a temporary new village will be set up providing visitors with all they need during their visit to Mt Hotham. On the slopes, a $4.4 million investment in snow making facilities will increase Mt Hotham's production area from 25 to 33 hectares enabling better skiing conditions throughout the season.
Dinner Plain
Just 10 kilometres from Mt Hotham, Dinner Plain is an all-seasons alpine village with more than 200 private chalets nestled among the snow gums, alongside restaurants, cafes and bars. Complete with new snow making guns, Dinner Plain is an ideal base for beginner downhill skiers, and a great place cross-country skiers with over 35 kilometres of groomed trails.
Its new Snow Park offers snow tubing, skiing and snow play in winter, and tubing on artificial snow year round. New light towers enable night skiing and tubing on Wednesday and Saturdays in peak winter season while gentle slopes and fully automated snow making provide great conditions for learning to ski and snowboard. Howling Husky Sled Dog Tours are available for those seeking a different kind of snow adventure.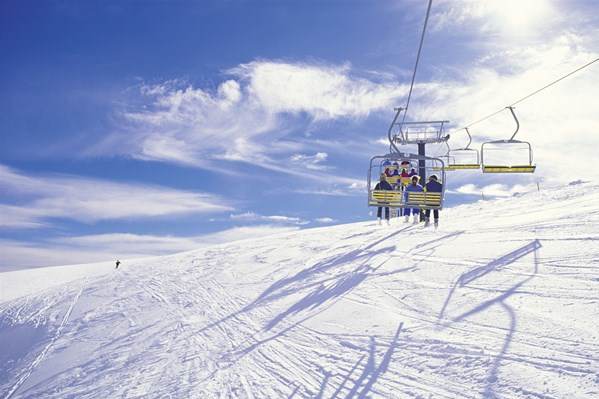 Lake Mountain
Victoria's most accessible alpine playground, just a two hour drive from Melbourne, Lake Mountain provides families with year-round adventure and during the alpine season, becomes a winter wonderland. With nearly 40 kilometres of well-marked and world-class cross country ski trails, toboggan slopes, snowshoe trails, and the popular Flying Fox and tube run, visitors can take advantage of an affordable family day out at a convenient location.
A first-rate team of instructors is on hand to guide share tips and tricks with all levels and all ages - from the basics all the way to refining racing skills. At the Lake Mountain's Fischer Fun Park, kids aged 4 -10 can get a taste of cross country skiing with a free 20-30 minute lesson including professional instruction and equipment. This year they can also try snowboarding while mum and dad watch on.
Mount Baw Baw
Melbourne's closest downhill ski resort, Mt Baw Baw Alpine Village offers fun, safe and affordable snow experiences throughout winter. More than 35 hectares of downhill terrain, seven lifts, two terrain parks, 10 kilometres of cross country ski trails, three snow play areas and unlimited terrain offer visitors the chance to explore the slopes amongst the snow gums.
The resort will offer a host of activities and events for skiers and snowboarders of all ages and levels throughout the winter season. First time skiers and boarders will be safe hands with the team of trainers, while a range of activities will keep the whole family occupied. These include sled dog tours, snowshoeing, snow groomer tours, a gym and spa pool.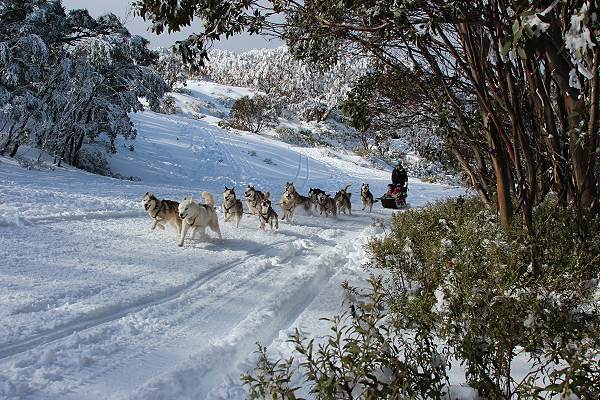 Mount Buffalo
Easily accessible from Bright and other sub-alpine towns of the High Country, Mt Buffalo National Park offers a range of winter activities for first-time snow-goers and families. With its gentle undulating landscape and over 14 kilometres of marked trails across the plateau, Mount Buffalo is an easy-to-access destination for cross-country skiing and other snow activities.
Throughout the winter, Adventure Guides Australia will run cross-country lessons and tours; "Snow Shoe Shuffle" adventures will take visitors on an easy tour of the mountain (perfect for those on a budget) and its safe tobogganing and snow play areas will provide fun for the whole family.

For posts about Melbourne events, places, news, reviews, giveaways, see our Facebook Page: