A Reel Life film section
Issue: Spring, 2009
Body Heat (1981) movie review
We're Creating a Heat Wave

... pretty soon people think the old rules are not in effect ...cause it's emergency time
Its hot in small town Florida. Clothes are off and crime is up. On a hot summer's night Ned Racine (WIlliam Hurt) meets Matty (Kathleen Turner), a beautiful and well-maintained woman with a husband who stays in the city during the week.
Racine is all that a small-time, not very competent shyster can be. He follows Matty back to her house and for the first time he denies his friends a detailed description of his adventures; not even telling them with whom he is involved.
Matty is careful, and more than that, greedy. In the sweat-filled nights she persuades Racine to conspire with her in the death of her husband.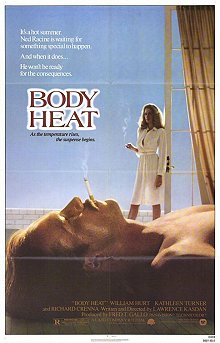 It's a hot summer. Ned Racine is waiting for something special to happen. And when it does... He won't be ready for the consequences.
I'm afraid because, when I think about it, I wish he'd die. It's horrible and it's ugly and it's what I most want... Talk is dangerous because sometimes it makes things real.
What Racine fails to consider is that cheaters cheat. Why does he trust his life to a woman who he knows is capable of betrayal?
Beautifully photographed and scripted, Body Heat is a moody masterpiece. Completely believeable and never becoming melodramatic, Body Heat is modern film noir, its flawed characters moving across the screen to an apt and seductive soundtrack.
A man is going to die for no reason but that we want him dead.
Absolutely worth watching.
by Ali Kayn
Australian release 1981
For credits and official site details, see below
Search Festivale for more work by the film-makers below.

See also: Lawrence Kasdan also wrote The Big Chill , The Bodyguard

for movie, TV show, or person

Film commentary and upcoming movie release dates at reel-life.info

Just the facts:

Title: Body Heat (2009)
Written by: Lawrence Kasdan
Directed by: Lawrence Kasdan
Running time: 113 mins
Rating: MA

---

The Players: Kathleen Turner, William Hurt, Ted Danson, Richard Crenna, Mickey Rourke

---

Official website:
IMDb entry<

---

For session times of current films, use the cinema listings on the Movie links page. For scheduled release dates, see the coming attractions section.

For more information about this movie, check out the internet movie database.
For the latest additions to Festivale, check out the change history section.