A Reel Life film section
Issue: August 2009
2010 (1984) movie review
The Year We Make Contact
The Future Revisited

1984's sequel to the classic science fiction/metaphysical story 2001 A Space Odyssey is more science and adventure and less metaphysics.
As the original ship's orbit deteriorate, U.S.S.R. and U.S.A. mount a joint mission to investigate changes on Io, and to recover the information in the computer HAL 9000.
The joint mission is set against rising levels of conflict on Earth and the conflict and the possibility of war is a major thematic concern in 2010.
Like 2001, 2010 reflects the changing society in which it is made. The wonderful British Helen Mirren is the mission commander, leading a team of males and females, Americans and Russians. Roy Schneider is a 1980s version of Dr Floyd, who in the original series was very much a 1960s man in a 2001 setting.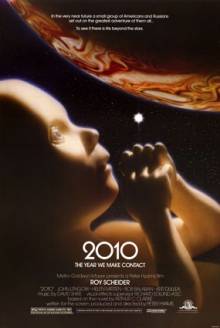 Enjoyable on its own, interesting if seen as the sequel to 2001, 2010 is an interesting and effective science fiction adventure that never rises above its material, and manages to make an anti-war statement without too much awkward obviousness.
by Ali Kayn
Australian release 1984
For credits and official site details, see below
Search Festivale for more work by the film-makers below.

See also: sequel to 2001 A Space Odyssey; Helen Mirren (2010, RED, Red 2, Arthur, Inkheart, National Treasure 2, The Queen, Raising Helen)

for movie, TV show, or person

Film commentary and upcoming movie release dates at reel-life.info

Just the facts:

Title: 2010 (The Year We Make Contact) (1984)
Written by: Arthur C. Clarke (novel); Peter Hyams
Directed by: Peter Hyams
Running time: 116 mins
Rating: PG

---

The Players: Roy Scheider, Helen Mirren, John Lithgow, Bob Balaban, Keir Dullea, Madolyn Smith, Dana Elcar,
Candice Bergen ... SAL 9000 (voice) (as Olga Mallsnerd)

---

Official website:
IMDb entry

---

For session times of current films, use the cinema listings on the Movie links page. For scheduled release dates, see the coming attractions section.

For more information about this movie, check out the internet movie database.
For the latest additions to Festivale, check out the change history section.