A Reel Life film section
Issue: Summer 2007-8
The Librarian: Quest for the Spear movie review
You're a professional student, Flynn. You're avoiding life. ... You need to find a job, Flynn.
And as Flynn (Noah Wyle) sits in his room in his mother's house among all his books, an invitation to apply for a job as The Librarian of the Metropolitan Public Library arrives.
The things that make life worth living, they can't be thought, here. They must be felt, here. Maybe you don't know so much.
Flynn joins the long, long queue of applicants with his mother's statement ringing in his ears.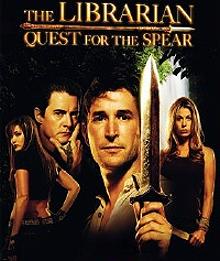 He discovers that the library is the repository for an amazing collection of artifacts from legends and fables of old. Pandora's box, the ark of the convenant, the sword in the stone and the spear that pierced the christian Jesus.
With Jane Curtin and Bob Newhart as administrative mentors, The Librarian promises to be a comedy. It breaks this promise.
The Librarian is a made-for-tv adventure with made-for-tv special effects and sets. The jungle in particular is embarrassing, like a play set in a houseplant-filled corner.
The spear is stolen, a female bodyguard is assigned and Flynn is off to recover the artifact using his extraordinary body of knowledge.
This film marks Newhart's first foray into action and he, like the other actors, didn't make an effort to actually acquire any skills, so the fighting sequences are ridiculous.
Blah. Any moments of magic and humour are far outweighed by poor execution.
The fate of the world is in my hands. That is just so, sad.
by Ali Kayn
DVD due for Australian release 25 February 2008
For credits and official site details, see below
Search Festivale for more work by the film-makers below.

See also: The Librarian episode 2

for movie, TV show, or person

Film commentary and upcoming movie release dates at reel-life.info

Just the facts:

Title: The Librarian: Quest for the Spear (2004)
Written by: David N. Titcher
Directed by: Peter Winther
running time:

---

The Players: Noah Wyle, Sonya Walger, Bob Newhart, Kyle MacLachlan, Kelly Hu, Jane Curtin, Olympia Dukakis, Lisa Brenner

---

Official website:
IMDb entry

---

For session times of current films, use the cinema listings on the Movie links page. For scheduled release dates, see the coming attractions section.

For more information about this movie, check out the internet movie database.
For the latest additions to Festivale, check out the change history section.