A Reel Life film section
Issue: Summer 2006-7
The Librarian 2 Return to King Solomon's Mines movie review
Flynn Carsen (Noah Wyle) is The Librarian -- entrusted with a museum of artifacts to guard, odd bits and pieces famed in tall tales and true. In this, the second Librarian tale, he has a new partner and a new quest -- to find King Solomon's Mines.
Be safe. Don't get killed. Save your receipts.
In the first episode, Carsen the habitual student and bookworm becomes Carsen the adventurer. Now the adventuring continues, despite the original's embarrassing acting and mortifying sets and special effects.
Veteran actor and Star Trek director Frakes takes the helm this time, with a considerably better budget it would appear.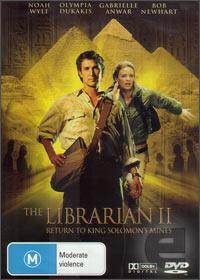 You'd be surprised what you can learn at the library.
An escapist adventure without much humour or any real originality. Mostly harmless.
by Ali Kayn
Due for Australian release 3 December 2006
For credits and official site details, see below
Search Festivale for more work by the film-makers below.

See also: The Librarian episode 1

for movie, TV show, or person

Film commentary and upcoming movie release dates at reel-life.info

Just the facts:

Title: The Librarian 2 Return to King Solomon's Mines (2006)
Written by: Marco Schnabel (scr); David N. Titcher (characters)
Directed by: Jonathan Frakes
running time: 92 mins
rating: M

---

The Players: Noah Wyle, Gabrielle Anwar, Bob Newhart, Jane Curtin, Olympia Dukakis, Robert Foxworth, Jonathan Frakes, Lisa Brenner

---

Official website:
IMDb entry

---

For session times of current films, use the cinema listings on the Movie links page. For scheduled release dates, see the coming attractions section.

For more information about this movie, check out the internet movie database.
For the latest additions to Festivale, check out the change history section.