A Reel Life film section
Issue: Autumn 2014
The Other Woman (2014) movie review
Girls Just Wanna Have Revenge
Carly (Cameron Diaz) is a hot shot, ruthless, gorgeous lawyer. She likes to go out with a lot of different men, all of whom are know to her and her assistant by nicknames. Until Mark. Mark has a name. Mark and she are exclusive. Mark could be 'the one'. So when he cancels a date to meet her father (Don Johnson), she follows him to Connecticut to help with his plumbing emergency. Only to meet his wife.
Shock! Horror! Embarrassment! Nobody plays it better. Cameron Diaz is totally believable as a woman who finds herself unwittingly as The Other Woman. Worse, Mark's wife Kate (Leslie Mann) is an over-the-top non-coper who imprints on Carly.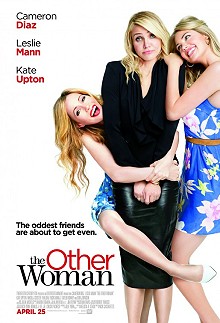 Yes, it's been done before, the cheated-on women who bond over seeking revenge on the cheater. But this is done well.
Mann's performance seems a bit much to me when she plays the reveal, but perhaps it's needed. The women, and yes, you can tell by the movie poster that a third woman (Kate Upton) makes an appearance, are essentially playing a buddy film. Unlike, say, The First Wives Club, it doesn't turn into a caper film.
The Other Woman is about finding humour in the reactions of the women and the way that they develop.
This is not a screamingly-hilarious movie, but it is a harmless way to pass the time.
by Ali Kayn
Australian release 24 April 2014
For credits and official site details, see below
Search Festivale for more work by the film-makers below.
See also: The Holiday (2006); A Life Less Ordinary (1997); Very Bad Things; In Her Shoes (2005); There's Something About Mary; Being John Malkovich; Charlie's Angels; Charlie's Angels 2; My Best Friend's Wedding;

for movie, TV show, or person

Film commentary and upcoming movie release dates at reel-life.info

Just the facts:

Title: The Other Woman (2014)
Written by: Melissa K. Stack
Directed by: Nick Cassavetes
Running time: 109 mins
Rating: M

---

The Players: Cameron Diaz, Leslie Mann, Nikolaj Coster-Waldau, Don Johnson, Kate Upton, Nicki Minaj

---

Official website: theotherwomanmovie.com
IMDb entry

---

For session times of current films, use the cinema listings on the Movie links page. For scheduled release dates, see the coming attractions section.

For more information about this movie, check out the internet movie database.
For the latest additions to Festivale, check out the change history section.
For posts about Melbourne events, places, news, reviews, giveaways, see our Facebook Page: