---
---
A Reel Life film section
Issue: Autumn 2016
Mr Right (2016) movie review
Crazy is As Crazy Does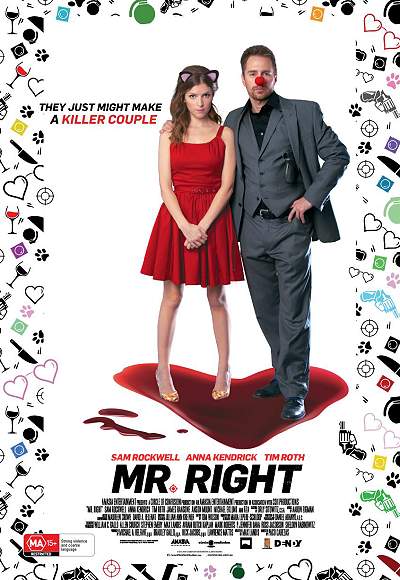 Martha (Anna Kendrick) has the worst luck with men until she meets Francis (Sam Rothwell). He's a bit crazy, but then so is she. He's also a hitman, but nobody's perfect.
Martha is just coming off a drunken binge after finding her boyfriend on the table with another woman. Francis is a hunted hunter having found a sort of morality and decided to stop murder-for-hire.
They meet in a rain of condom boxes and he fast-talks her onto a date. They are both a bit off-beat. He tells her he is a hitman, he says people are shooting at him, but she isn't convinced until the first body falls.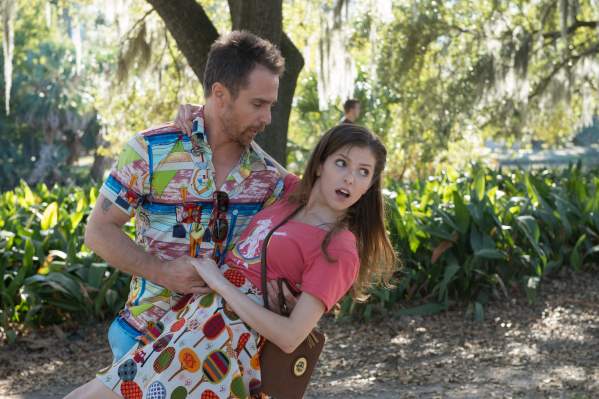 Mr Right needed to have everything working to carry a thin action-comedy plot like this, and it does have. This is a fun, fast-paced, heart-warming, mad film whose characters we can take to our hearts.
Max Landis' (American Ultra, Victor Frankenstein and Chronicle) high concept hitman script didn't find favour in the studios so producers Rick Jacobs and Stephen Emery, who also manage Landis, decided to produce the script themselves.
I am a TREX. I am invincible.
"For all its fun and dynamics, Max's story didn't immediately catch the eyes of the studios, so that became an opportunity where Stephen and I decided to put the movie together organically," Jacobs says. "The great thing about Mr. Right is, it's got a little bit of everything -- action, romance, comedy. The story doesn't fit in one box, which can make it hard for some people, but for us it seemed like a really fun ride to jump on."
Director Paco Cabezas (Neon Flesh) brings the script to life with a deft touch. He claims a crazy kinship to Landis, and this gives the film a unity of vision. He says, "I've always been attracted to mixing genres, in this case the idea was to take a romantic comedy and turn it around, mix it with action and black humor. And what I love most about the story is that normally, Hollywood movies are black and white. They're very moralistic and simplistic. But in this case, Martha becomes more attracted to Francis because he's a killer."
Francis and Martha might freak other people out, but they don't freak each other out.
Sam Rockwell (Charlie's Angels, Iron Man 2, Frost/Nixon) is an actor with edge, he plays a wide range of characters, and he brings his own manic craziness to the hitman in love. He was immediately attracted to the script and its characters, "I saw Mr. Right as being kind of like Mr. and Mrs. Smith-meets-Silver Lining Playbook where you have two dysfunctional bi-polar type people who find each other. They're both hot messes, on edge and scary. Francis and Martha might freak other people out, but they don't freak each other out."
Playing opposite Rockwell, Anna Kendrick (Up in the Air, Pitch Perfect) brings the right blending of vulnerability, craziness and bravado. "The most exciting thing for me was the way Max wrote Martha as someone who's always been a little psychotic," Kendrick says. "He mentioned to me that some script notes suggested he make her this mild mannered girl until she encounters Mr. Right. But I thought it was funny and wise to make Martha bat shit crazy from the get go."
With actors like Tim Roth (TV's Lie to Me) round out the cast, Mr. Right is a delightful surpise. The language is full-bodied, and so is the action, but neither is overdone. Get yourself a large popcorn and sit down for a great fun time.
If you like this film, check out these:
Kill Me Later
Excess Baggage

by Ali Kayn
Australian release 21 Apr 2016 rescheduled
For credits and official site details, see below
Search Festivale for more work by the film-makers below.
See also:

for movie, TV show, or person

Just the facts:

Title: Mr Right (2016)
Written by: Max Landis
Directed by: Paco Cabezas
Running time: 90 mins
Rating:

---

The Players: Sam Rockwell, Anna Kendrick,Tim Roth, James Ransone, Anson Mount, Michael Eklund,

---

Official website: http://www.focusfeatures.com/mr_right/
IMDb entry

---

For session times of current films, use the cinema listings on the Movie links page. For scheduled release dates, see the coming attractions section.

For more information about this movie, check out the internet movie database (IMDb).
For the latest additions to Festivale, check out the change history section.
For posts about Melbourne events, places, news, reviews, giveaways, see our Facebook Page: