<!end navbar-->
---
---
Where are we?
Guidebook's Australian Maps
Map of Melbourne and Environs
Melbourne sits along the Yarra River, and spreads around Port Phillip Bay. It has a mixture of influences, making it a different city to different people. Some migrants come, settle into suburbs with people from the same culture, and rarely learn the language. Others embrace the myriad of cultures that are available.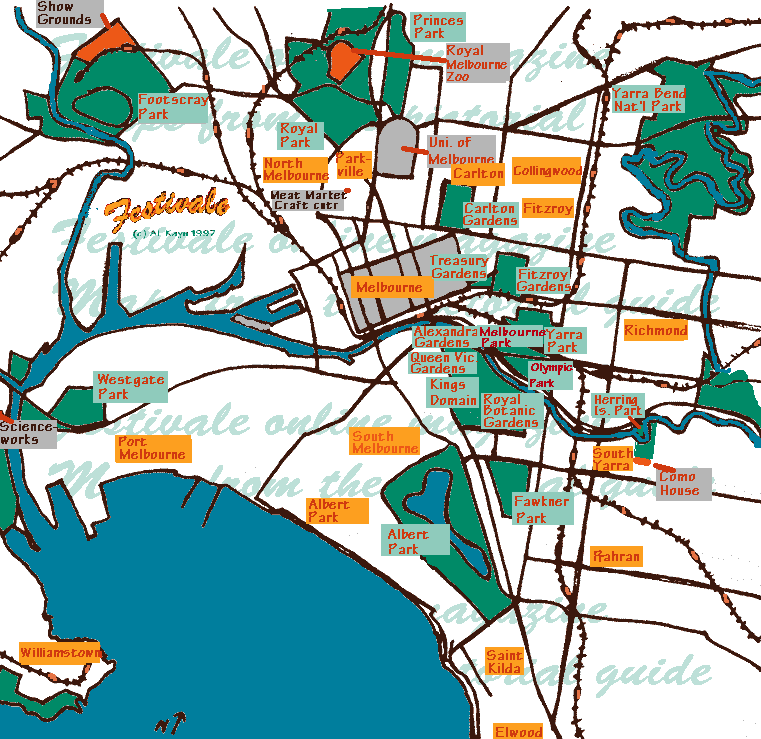 After the displacement of the local aboriginal (Koorie) people, Europeans spread and built homes grand and small. The gold rush brought people from all around the world, including Asian, however the White Australia policy restricted immigrations for decades in the twentieth century.
The fall of the Vietnamese war saw an influx of Asian refugees, who changed the shape of some suburbs, and who introduced new shops and restaurants. In recent decades, Australia has increasingly seen itself as part of Asia (Asia Pacific), and looked to it for commercial opportunities.
One prevalent source of income has been the young people of Asia. They come on student visas, rent, spend, study, contribute to the Melbourne cultural mix, and for them shops offer food, drink, and goods that they are familiar with.
This has changed the landscape of the Melbourne Central District especially, with students attending city campuses such as the University of Melbourne and RMIT University.
Fortunately some of each generation is kept by organisations like the National Trust and Museum Victoria, so we can enjoy the architecture and styles of other times.

For posts about Melbourne events, places, news, reviews, giveaways, see our Facebook Page: