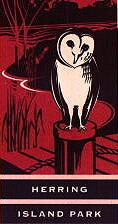 Herring Island Park, Melbourne, Victoria
A highly modified parkland close to the Melbourne city centre, Herring Island Park is under the jurisdiction of the Melbourne Parks and Waterways.
The island lies opposite Como Park in South Yarra. Quarrying in the 1800s created a series of holes separated from the nearby Yarra River by narrow ridges of unquarried rock. The Melbourne and Metropolitan Board of Works decided to create a short-cut for the Yarra River to reduce the risk of flooding. The work was completed in 1929, and the severed piece of land was known as Como Island.
The remaining quarry holes and low areas were filled with silt dredged from the River. In November 1934 the biggest flood ever recorded on the Yarra River submerged the entire island. Levee banks around the island were rebuild in 1935, trees replanted, and the island continued to be used as a dumping ground for silt.
The island was renamed for Sir Edmund Herring, then the President of the Australian Scout Association when the Scouts leased the island from 1951 to 1970 for summer camps and training courses. Responsibility for the island was transferred in 1994 and the aim is to create an island suitable for recreational and conservation use on the Yarra River.
Currently there are visitor pathways and viewing areas, picnic areas and barbecues. Staff and the Friends of Herring Island will include controlling exotic plants and feral animals, improving public access and amenities and creating opportunities for environment education and tourism activities.
Facilities proposed for the future include additional landings.
Just the facts:
Contact: For further information, call 131963
Visit Victoria
Getting there: 3 kilometres from the city centre, Herring Island park is on the Capital City bike trail.