Issue Spring 2015
Day of the Dead Warehouse Project 2015
I have long adored the Mexican tradition of Dia de Los Muertos and while I am ecstatic that Australia has embraced the tradition in recent years, it pains me to see the true essence and beauty of the festival has become lost in translation.
To say Melbourne's Day of the Dead warehouse project was a complete disappointment would be an understatement. The VIP Ultra Black bar was bathed in a sea of deep crimson, which would have created an atmosphere reminiscent of an intimate clandestine dinner party had it not been for the cheap plastic skulls and tea light candles placed on each table. The lone bartender struggled to serve the patrons in a timely manner and at $15 a pop, the tequila cocktails on offer tasted more like mocktails and worse than the cherry flavored bronchitis medicine I was forced to drink as a child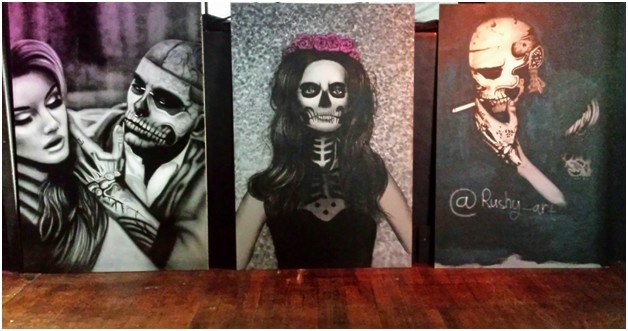 I was at a loss for words when patrons entered dressed as Disney Princesses and Where's Wally and made a hasty exit to explore the rest of the venue. The paltry servings of food on offer were severely overpriced at $10 for a child sized fist full of guacamole and tortilla chips. One could be forgiven for thinking the long queue at professional make-up artist booth was a good sign, but in actual fact they were nothing to rave about and the only awesome thing about the entire event was watching the street artists as they painted some beautiful pieces.
The gorgeous work of airbrush artist Rebecca Rushbrook is now a personal favorite of mine, so take a peek at her Instagram account @rushy_art as I'm sure you will adore it as much as I.
This event was a complete rort and if the organisers expect this event to return next year with a cult following, they might want to take off their scarlet tinted glasses.
For posts about Melbourne events, places, news, reviews, giveaways, see our Facebook Page: