A Reel Life film section
Issue: Summer, 2003
Peggy Sue Got Married movie review
Supernatural Time Travel
Peggy Sue (Kathleen Turner) is being brave about her divorce from her high school sweetheart (Nic Cage). She has some regrets, mainly that she got pregnant and got married. Now she's gone back to her school days (1960) and she has a chance to do it all over again -- but what will she do with the benefit of hindsight? What will she change? What will she do the same?
I have certain unresolved issues about your father: I don't trust him.
Peggy Sue Got Married is a time travel story in the tradition of 'soft' science fiction. The technology that transports her back in time is not relevant -- it is merely a device to create the classic "what if?" scenario.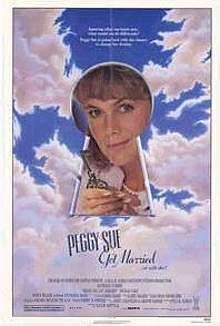 Peggy Sue has a lot of fun with comparing 1960 with the 1980s.
For some reason everything else gets tiny and portable radios get enormous.
If you pay close attention to what is happening in the life of Peggy and her family in 1960, you'll see that even the second time around Peggy is oblivious to some of the realities around her.
Fun, and with more substance than it seems at first.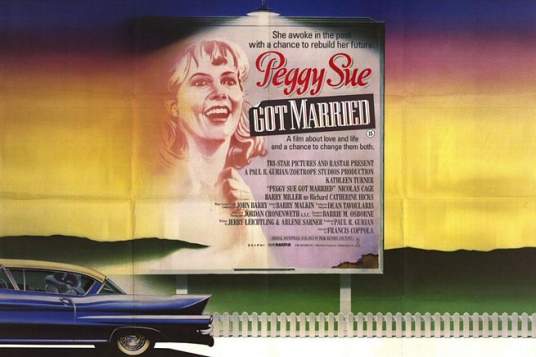 by Ali Kayn
Australian release 5 March 1987
For credits and official site details, see below
Search Festivale for more work by the film-makers below.

See also:

for movie, TV show, or person

Film commentary and upcoming movie release dates at reel-life.info

Just the facts:

Title: Peggy Sue Got Married (1986)
Written by: Jerry Leichtling (scr) & Arlene Sarner (scr)
Directed by: Francis Ford Coppola
running time: 103 mins
rating: PG

---

The Players: Kathleen Turner, Nicholas Cage, Catherine Hicks, Joan Allen, Jim Carrey, Lisa Jane Persky, Helen Hunt

---

Official website:
IMDb entry

---

For session times of current films, use the cinema listings on the Movie links page. For scheduled release dates, see the coming attractions section.

For more information about this movie, check out the internet movie database.
For the latest additions to Festivale, check out the change history section.