A Reel Life film section
Issue: Winter 2004
Heart Condition movie review
Jack Moony (Bob Hoskins) was a cop who thought he had a problem with black people. That was before he was given the heart of a cocky black lawyer (Denzel Washington). Now the two of them are linked until they can find the donor's killer.
It's a great shame that the concept behind this story -- racial prejudice -- still exists, but the film Heart Condition is the good coming from the bad.
A clever and humourous story of two men who need to work together despite their inherent dislike for one another with the twist that one is a ghost. They discover during their adventure a liking for one another, a grudging respect, and Jack becomes the man he needs to be in order to win the hand of the woman they both love.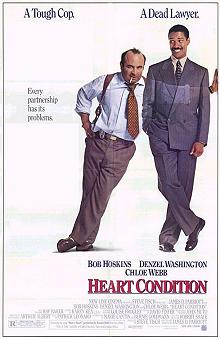 A good detective yarn, a well-paced comedy and a touch of romance. Altogether a fun piece of entertainment.
by Ali Kayn
Australian release Apr 1990
For credits and official site details, see below
Search Festivale for more work by the film-makers below.

See also:

for movie, TV show, or person

Film commentary and upcoming movie release dates at reel-life.info

Just the facts:

Title: Heart Condition (1990)
Written by: James D. Parriott
Directed by: James D. Parriott
running time: 100 mins
rating: M

---

The Players: Bob Hoskins, Denzel Washington, Chloe Webb, Roger E. Mosley, Alan Rachins

---

Official website:
IMDB: IMDb entry


---

For session times of current films, use the cinema listings on the Movie links page. For scheduled release dates, see the coming attractions section.

For more information about this movie, check out the internet movie database.
For the latest additions to Festivale, check out the change history section.