A Reel Life film section
Issue: Autumn 2003
The Thing Called Love (1993) movie review
Miranda Presley (no relation) is following her dream to be a songwriter all the way to Nashville. She is alone in the world following the death of her father and is determined to make her way in the Country-Western music industry. Her first stop is The Bluebird Café where auditions are held weekly to choose songwriters to perform their own songs on open mike night.
Miranda (Samantha Mathis) is too late to audition that week, but she meets other aspiring songwriters of her own age group: Linda Lue Linden (Sandra Bullock) a southern belle who offers to share a room with her in the eccentric nearby motel, James Wright (River Phoenix) who has published and has a recording contract and a bad boy attitude, and Kyle Davidson (Dermot Mulroney) who rapidly develops a crush on her.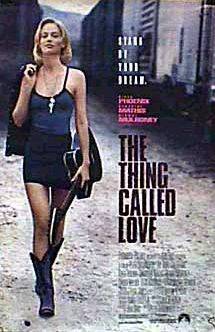 The Thing Called Love is not just a coming-of-age story, nor is it just a story of young love, it is also the story of the love of one's craft, and the kind of struggle making one's way and learning one's craft can be.
The four must find their way despite setbacks and rivalries. Their stories have a satisfying universality that keeps us watching, hoping that they will succeed, whether in work or in love.
by Ali Kayn
Australian release 1993
For credits and official site details, see below
Search Festivale for more work by the film-makers below.

See also:

for movie, TV show, or person

Film commentary and upcoming movie release dates at reel-life.info

Just the facts:

Title: The Thing Called Love (1993)
Written by: Carol Heikkinen
Directed by: Peter Bogdanovich
running time: 116 mins
rating: M

---

The Players: River Phoenix, Samantha Mathis, Dermot Mulroney, Sandra Bullock, K.T. Oslin, Trisha Yearwood

---

Official website:
IMDb entry

---

For session times of current films, use the cinema listings on the Movie links page. For scheduled release dates, see the coming attractions section.

For more information about this movie, check out the internet movie database.
For the latest additions to Festivale, check out the change history section.