A Reel Life film section
Issue: Spring 2013
Stargate (1994) movie review
In 1928 the sands of Giza, Egypt, a huge stone ring is found during excavations. The expedition leader's daughter is running through the area unattended and takes a golden pendant on a necklace.
In contemporary times, an underappreciated Egyptologist and linguist Daniel Jackson is offered a job when is leaving a lecture with no home to go to. It is Langford's daughter and she has something for Daniel to translate. Deep underground in a high-security U.S. Air Force bunker he makes short work of the task.
A million years into the sky is Ra. Sealed and buried for all time, his Stargate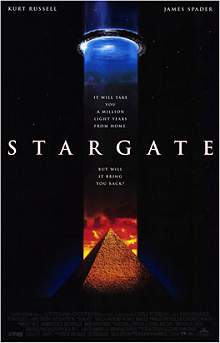 A retired Special Forces Colonel Jack O'Neil is called in, and when Daniel identifies other symbols as 'constellations', O'Neil approves the revelation of the stone ring -- the stargate. They are missing one symbol, and when Daniel identifies it, equipment is set in motion and a wormhole comes into being. A probe proves that they have found the path to another planet.
In a short space of time a mission is set up and Daniel is included so that he can open the return stargate. On the distant planet the group encounter an apparent tribe of humans who worship and work for Ra. The team must escape Ra's forces and find a way home.
Stargate is a science fiction story working from the premise that much of the Egyptian relics we find today were built in emulation of other-worldly technologies.
The idea is interesting, the set and costume design is gorgeous. There's adventure and some moments, not enough, of characterisation. This film is definitely worth a look.
by Ali Kayn
Australian release 16 February 1995
For credits and official site details, see below
Search Festivale for more work by the film-makers below.

See also:

for movie, TV show, or person

Film commentary and upcoming movie release dates at reel-life.info

Just the facts:

Title: Stargate(1994) (1994)
Written by: Dean Devlin & Roland Emmerich
Directed by: Roland Emmerich
running time: 121 mins
rating: PG

---

The Players: Kurt Russell, James Spader, Alexis Cruz, Viveca Lindfors, Mili Avital, Leon Rippy, Djimon Hounsou, French Stewart

---

Official website:
IMDb entry

---

For session times of current films, use the cinema listings on the Movie links page. For scheduled release dates, see the coming attractions section.

For more information about this movie, check out the internet movie database.
For the latest additions to Festivale, check out the change history section.