A Reel Life film section
Issue: Winter 2002
The Net movie review
Angela Bennett (Sandra Bullock) is a reclusive computer programmer who has just been sent a very dangerous virus to repair. She goes on holidays only to discover that her identity has been substituted for another and she is on the run from the authorities and the people behind the virus.
Haven't we all thought at one time that the people with the most to gain from viruses are those who profit from their removal? The Net is the classic innocent person on the run thriller, in this case a programmer with marginal people skills, no effective family, and whose special skills are needed to bring down the baddies.
Sandra Bullock plays the antisocial Angela with her trademark vulnerability and we want her to find a way out of her troubles, and if she saves the day all the better.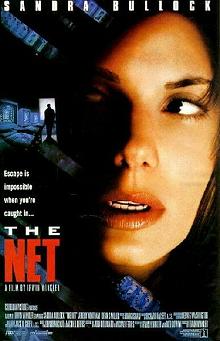 The Net is science fiction for the mainstream audience. It uses the potentialities of the (then) new technologies to extrapolate a danger, which is in the best tradition of science fiction, however it relies much less on special effects and whiz bangery than it does on our concern for the character.
Interesting and little bit scary. Worth a look.
by Ali Kayn
Australian release 21 September 1995
For credits and official site details, see below
Search Festivale for more work by the film-makers below.

See also:

for movie, TV show, or person

Film commentary and upcoming movie release dates at reel-life.info

Just the facts:

Title: The Net (1995)
Written by: John D. Brancato (written by) & Michael Ferris (written by)
Directed by: Irwin Winkler
running time: 114 mins
rating: M

---

The Players: Sandra Bullock, Jeremy Northam, Dennis Miller

---

Official website:
IMDb entry

---

For session times of current films, use the cinema listings on the Movie links page. For scheduled release dates, see the coming attractions section.

For more information about this movie, check out the internet movie database.
For the latest additions to Festivale, check out the change history section.