A Reel Life film section
Issue: Summer 1997-8
Excess Baggage movie review
Emily (Alicia Silverstone) is a spoiled rich girl who is determined to get Daddy's (Jack Thompson)'s attention. This time she's staged a fake kidnapping and imagines a tearful reunion with a heart-broken and remorseful father. Instead he calls in the police and a long time friend and fixer, Emily's Uncle Ray (Christopher Walken).
The plan goes further awry when Vincent (Benicio Del Toro) steals the car in which Emily has incarcerated herself leading to a dramatic and somewhat comedic confrontation between the bewildered thief and the self-defence trained society girl.
Vincent's accomplice (Harry Connick Jr) is horrified at the sight of the kidnapped heiress and Vincent decides to dump Emily like a puppy in the woods. As a kidnapping victim Emily is no more quiescent than she is as a daughter.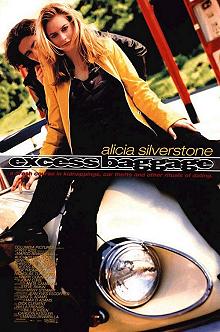 Excess Baggage rapidly becomes a story of two young people on the run from the cops, Uncle Ray, and the people Vincent stole cars from. It's fun, adventure, a series of plots to extricate themselves and the discovery that their best friends and allies are one another.
Pacy and amusing with just the right amount of explosions and bad guys.
by Ali Kayn
Australian release 11 December 1997
For credits and official site details, see below
Search Festivale for more work by the film-makers below.

See also:

for movie, TV show, or person

Film commentary and upcoming movie release dates at reel-life.info

Just the facts:

Title: Excess Baggage (1997)
Written by: Max D. Adams (story); Max D. Adams & Dick Clement & Ian La Frenais (screenplay)
Directed by: Marco Brambilla
running time: 101 min
rating: M

---

The Players: Alicia Silverstone, Benicio Del Toro, Christopher Walken, Jack Thompson, Harry Connick Jr., Sally Kirkland,

---

IMDb entry



---

For session times of current films, use the cinema listings on the Movie links page. For scheduled release dates, see the coming attractions section.

For more information about this movie, check out the internet movie database.
For the latest additions to Festivale, check out the change history section.