A Reel Life film section
Issue: 2011
Good Will Hunting (1997) movie review
Good Friends Found

This award-winning film is built on a well-crafted script by the two young actors who lead the cast.
Matt Damon is the troubled genius, Ben Affleck his best friend, and together they live a working-man's life in the inner city: hard physical labour, hard physical playing, aimless and without ambition.
But Will Hunting is brilliant, and he seeks to attract and destroy at the same time. He travels across town to work as a labourer in the halls of learning, but he knows his understanding is above theirs.
Minnie Driver as his love interest is bold and challenging, and Robin Williams, as his last-chance therapist is outrageous and demanding and broken.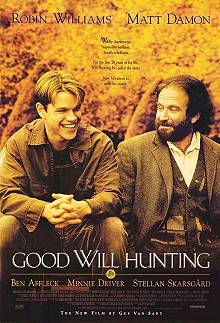 Good Will Hunting stands out against the glossy, high-action, statistically-analysed movies that corporate movie companies are so fond of today. Yes, light fun films can be enjoyable, but films such as this that look at human nature and human choices and human nobility are necessary. That such a film comes from the minds of two young actors gives one hope for the future of the film-making industry.
Definitely a film worth seeing and considering. I hope that Damon and Affleck have another such film in them.
by Ali Kayn
Australian release 1997
For credits and official site details, see below
Search Festivale for more work by the film-makers below.

See also: Minnie Driver in Hard Rain
Morgan Freeman in Kiss the Girls
Robin Williams also appears in Flubber and Patch Adams;

for movie, TV show, or person

Film commentary and upcoming movie release dates at reel-life.info

Just the facts:

Title: Good Will Hunting (1997)
Written by: Ben Affleck, Matt Damon
Directed by: Gus Van Sant Jr.
The Players: Matt Damon, Robin Williams, Ben Affleck, Minnie Driver, Stellan Skarsgård, Casey Affleck

---

Official website: miramax
IMDb entry

---

For session times of current films, use the cinema listings on the Movie links page. For scheduled release dates, see the coming attractions section.

For more information about this movie, check out the internet movie database.
For the latest additions to Festivale, check out the change history section.