Evans decision to sell the screen rights to Robert Redford (not the highest bidder) has proved itself to be wise -- the story is perfect for the craggy outdoors man that Redford has become. While some might decry the loss of his fresh-faced boyish charm, Redford has metamorphosed into a sturdy, sure-handed actor and director.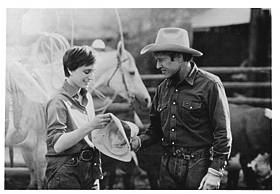 Kristin Scott Thomas and Robert Redford in The Horse Whisperer
Shot with a broad camera in the expanses of Montana, The Horse Whisperer portrays a man with a zen-like approach to life, horses and people. Tom Booker treats "horses with people problems" as he lives and works among his family on their cattle ranch.
The film is meticulously cast and the three hours pass by with never a loss of interest. Whether this film has a happy ending or not is going to be a personal decision for the audience, but for the film makers their labour of love has wrought a film piece of cinema, and a beautiful picture of life in the American countryside.
Definitely see this in the cinemas, this film fills the screen. You don't need to go to one of the big, big, screens, but you should see it wide screen for a wide land.