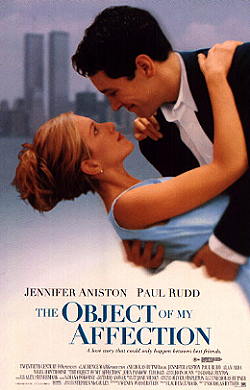 The Object of My Affection is being hailed as a watershed film, it presents homosexuals as a rich variety of individuals, with many roles: worker, friend, parent, lover, advisor, and with weaknesses and strengths. We learn through Dr Joly (Tim Daly) that all-men-are-liars is about individual behaviour, not sexual politics, or perhaps that sexual politics ignores such minor concerns as adult partner preferences.

The film begins with the meeting of George (Paul Rudd) and Nina (Jennifer Aniston). She unwittingly is the one to inform her newly-met friend that he is being dumped. He takes up residence in her spare room, and begins to claim his permanent place in her heart.

She suggests that they take dance lessons, and soon they are sharing life's highs and lows, including the ramifications of her impending pregnancy to George (John Pankow). As the film develops, Nina suggests that they raise her child together, not as a married couple, but as a co-operative friendship.

Just about all the "I"s are dotted and all the "T"s are crossed in this film, we meet the president of Mothers of Latino lesbians, we see relationships between different sexes, the same sexes, different education levels, different earning-scales, different religions, and different races. We even have a bit of safe sex/positive self-image courtesy of our heroine's social work with teenagers.