Shooting Fish
Remember how geeky kids were once the outsiders, the people at the bottom of the heap you had a licence to pick on? Not in this movie. In the 1990s the wheel has come full circle and the nerd is king. With Bill Gates rolling in millions a day and office workers in thrall to the systems support guy, it's cool to be uncool. In Shooting Fish, Dylan (Dan Futterman) and Jez (Stuart Townsend), grown-up orphans from either side of the Atlantic, are the little outsiders who take on the establishment and have you cheering all the way.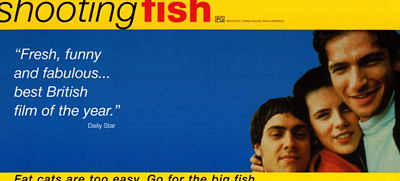 Dylan is American and a smooth-talking con-man; Jez is British, a shy technical wizard. They live together in an amazing home inside an old gas tower, plotting their scams to make £2 000 000 by stealing from the rich. They have a moral code of sorts: to only steal from the "fat fish" who can afford it, leaving the "thin fish" alone. Into this web steps Georgie (Kate Beckinsale), an attractive young medical school student who becomes attached to the pair and, eventually, deeply involved in their schemes. What follows is an enormously entertaining rollercoaster ride through deception, counter-deception and hidden motives.
It feels very much like an Australian film in its quirkiness and its reliance on a slightly unrealistic universe which the audience happily accepts. If you've seen 'Malcolm', you'll experience a twinge of familiarity. Shooting Fish certainly stands on its own merits though, and achieves a wonderful rapport between the characters that drive the film. Dylan and Jez's close, brother-like buddy relationship is the most convincing I've ever seen on film, natural, unforced and ever-present. Georgie brings her own distinct personality to the mix, never in risk of being overshadowed. You can't help becoming an accomplice yourself and cheering the characters on as their plans unfold.
Thank God the British film industry still knows how to produce films outside the genres of glorious period costume drama and depressing post-Thatcherite urban nightmare. Shooting Fish is a highly entertaining movie and a worthy successor to the much-enjoyed Full Monty of last year. Go see it.