Sally's sadness is shattered when she feels the call to rescue her sister and the pair are kidnapped by the Jilly's abusive and homicidal boyfriend.

Practical Magic has a lot to offer the audience. There is charm and humour, three generations of actresses who play their talented/cursed characters with clarity and affection. Channing and Wiest are enormously attractive 'crones', Kidman and Bullock are loving and battling sisters, and the group having Midnight Margaritas is wonderful to behold.

Goran Visnjic is a believably attractive but toxic boyfriend, and Aidan Quinn plays the laconic lawman-of-Sally's-dreams with a good dash of disbelief.

Plus there's the house and garden, beautiful, with a greenhouse, a true family kitchen and a feeling of history.

If this is a "Chick Flick" it is the best kind -- where the craft is a mechanism and woman gather together and release their fear of their own power.

Witchcraft has long been a metaphor for the power of women -- white magic or black. In Practical Magic the warring of good versus evil is not overshadowed by the special effects, and the true magic is ultimately the power of compassion.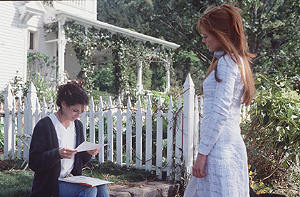 Sandra Bullock and Nicole Kidman in Practical Magic