A Reel Life film section
Issue: Winter, 2012
Postcards from the Edge movie review
A man drops off a semi-conscious woman at a hospital and speeds away. The only clue to her condition is a handbag full of pills. But this is not an anonymous woman, but a woman "built for public". She (Meryl Streep) is the actress daughter of a famous actress (Shirley MacLaine) and her life of wealth and position has not brought her peace and happiness.
Written by Carrie Fisher (daughter of Eddie Fisher and Debbie Reynolds), and based on her semi-autobiographical novel Postcards from the Edge, this film is a sharply-written look at the Hollywood machine and the people it grinds upon.
Suzanne Vale grew up in the shadow of her singer-actress mother, with birthday photoshoots and revolving-door fathers. She has not coped well and her drug abuse is fueled by an empty life and a procession of embarassments.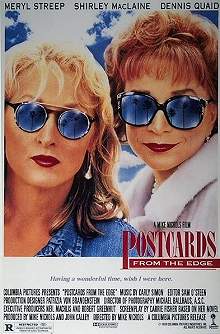 The only way that Suzanne can continue to work is if she lives with her mother and takes regular drug tests. As she makes her way through the far from glamorous life of a working actress she nonetheless faces universal problems.
Suzanne's family are pushy, interfering, and embarassingly forthright. Her boyfriend (Denis Quaid) is a questionable choice, her work is frustrating and her co-workers criticise her behind her back. Although Suzanne is one of the elite, born and bred, she is very human and Meryl Streep does a wonderful job as the struggling Suzanne. The ultimate stage mother is played, without eyebrows and makeup in one scene, by a brave Shirley MacLaine. Mike Nichols does an excellent job with his cast, taking full advantage of Fisher's masterful script.
Watching this film is time well spent.
by Ali Kayn
Due for Australian release 1990
For credits and official site details, see below
Search Festivale for more work by the film-makers below.

See also:

for movie, TV show, or person

Film commentary and upcoming movie release dates at reel-life.info

Just the facts:

Title: Postcards from the Edge (1990)
Written by: Carrie Fisher (book and screenplay)
Directed by: Mike Nichols
running time: 101 mins

---

The Players: Meryl Streep, Shirley MacLaine, Gene Hackman, Denis Quaid, Rob Reiner, Richard Dreyfuss, Mary Wickes, CCH Pounder, Oliver Platt

---

Official website:
IMDb entry

---

For session times of current films, use the cinema listings on the Movie links page. For scheduled release dates, see the coming attractions section.

For more information about this movie, check out the internet movie database.
For the latest additions to Festivale, check out the change history section.