A Reel Life film section
Summer 2000
Unbreakable (2000) movie review
Inescapable Destiny
Elijah Price (Samuel L. Jackson) is highly breakable. He has a rare condition that makes his bones easily broken. He has lived his life with endless painful breaks and treatment. David Dunn (Bruce Willis) is the only survivor of a train crash. David has never been sick.
An aficionado of comic books, comic art and comic mythologies, Price becomes obsessed with the idea that somewhere there is an opposite to himself -- an Unbreakable Man.
What would you do if someone suggested that you were a superhero? How would your family react?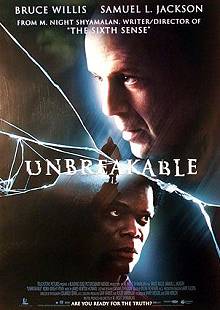 From the imagination of writer/director M. Night Shyamalan, Unbreakable is a gently moody story about a violent subject. We watch as Dunn's life unfolds. His marriage, his job, his view of himself, are all coloured by Price's theory.
A fascinating story, made stronger by the unified vision of having the same person write and direct, Unbreakable has great strength. Watch for Shyamalan's trademark use of red to indicate something or someone extraordinary.
Highly watchable.
by Ali Kayn
Due for Australian release 30 November 2000
For credits and official site details, see below
Search Festivale for more work by the film-makers below.

See also: The Sixth Sense; Signs; Lady in the Water; The Happening

for movie, TV show, or person

Film commentary and upcoming movie release dates at reel-life.info

Just the facts:

Title: Unbreakable (2000) (2000)
Written by: M. Night Shyamalan
Directed by: M. Night Shyamalan
running time: 106 mins

---

The Players: Bruce Willis, Samuel L. Jackson, Robin Wright Penn

---

Official website:
IMDb entry


---

For session times of current films, use the cinema listings on the Movie links page. For scheduled release dates, see the coming attractions section.

For more information about this movie, check out the internet movie database.
For the latest additions to Festivale, check out the change history section.