Festivale online magazine
A Reel Life film section
Thomas Crown Affair, The movie review

The original Thomas Crown Affair with Faye Dunaway and Steve McQueen set standards for style, with it's haute couture costumes, overt sexuality, BORDERline morality and multi-image collage sequence. And of course the Oscar (R) Award winning song Windmills of my Mind.

The nineties version with Pierce Brosnan and Rene Russo is more naturalistic. The story is still about two over-achieving amoral loners, a multimillionaire business man and a wealthy female insurance investigator/bounty hunter. They dress amazingly, indulge expensive habits, have exuberant sex and complicated mating rituals in gorgeous surroundings. Well, maybe this isn't everyday life, but the emphasis this time is much more on the characters.


Movie Poster, The Thomas Crown Affair
This time out a self-made Tommy Crown is stealing from an art gallery, not a bank and affianados will find great joy in the Maigrette references. He masterminds a theft at a fictional major New York gallery and is pursued by the Mr Average police detective (Denis Leary) and the elegant huntress Catherine Banning (Russo). I found the theft of public art a lot more reprehensible than ripping off a bank full of paper money, but one quickly gets lost in the fun of the chase and the constant, equal, battle of wits and nerves between the two principals.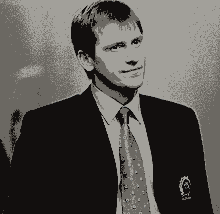 Movie still, Denis Leary in The Thomas Crown Affair,
This filmed is filled with humour, Ms Russo's laugh emphasises the fun. It certainly makes the sex scenes, although I'll bet you several dollars no-one with any sense tries to mate on a marble staircase in real life.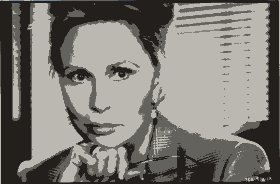 Movie still, Faye Dunaway in The Thomas Crown Affair
Together Brosnan and Russo wipe just about everyone off the screen except for Faye Dunaway as Crown's psychiatrist. She gets to be a kind of chorus, the kind of exposition role that some people will automatically dislike, but is great fun to watch. Leary as everyman has a strong role, but just about everyone else disappears into the background.
| | | |
| --- | --- | --- |
| Movie still, Pierce Brosnan and Rene Russo in The Thomas Crown Affair | | Ruso is in face one of only two female characters in the film, all the crooks, all the police are male. The only woman is a skeletal blonde model we see in Thomas Crown's company. All in all, this is a watchable, fun film with personable characters and a clever ending. |
Ali Kayn

Due for Australian release August 12, 1999
For credits and official site details, click here.
Search Festivale for more

For credits and official site details, click here.
Search Festivale for more
Just the facts:

Title: Thomas Crown Affair, The (199)
Written by: Leslie Dixon and Kurt Wimmer
Directed by: John McTiernan
Produced by: Pierce Brosnan, Beau St clair, Michael Tadross
Edited by: John Wright
Director of Photography: Tom Priestley
running time:
rating:

The Players: Pierce Brosnan, Rene Russo, Denis Leary, Ben Gazzara, Frankie Faison, Fritz Weaver, Faye Dunaway
Official website
For session times of current films, use the cinema listings on the Movie links page. For scheduled release dates, see the coming attractions section.

For more information about this movie, check out the internet movie database


Movie images, sounds, and video clips are solely owned by their respective companies.
No other uses are permitted without the prior written consent of owner.
Use of the material in violation of the foregoing may result in civil and/or criminal penalties.

Festivale Online Magazine
Celebrate everything!
www.festivale.info
ISSN 1328-8008
Published in Melbourne, Victoria, Australia
disclaimers | contact the editor | Festivale revision history



Published in Melbourne, Victoria, Australia copyright © Festivale 2000 All rights reserved
Filed: 23-Apr-1999 Last updated: 12-Aug-1999 Last tested: 19-Jan-2009 Last Compiled: 08-Aug-2014
Entire site refreshed: Dec 2008-Feb 2009 | Site URL transferred: Jan 2005 (previously www.festivale.webcentral.com.au)