A Reel Life film section
Issue: Spring 2008
The Women (1939) movie review
Women Together

Mary Haines (Norma Shearer) is a wealthy, beautiful socialite with a big house, a staff, a distinguished-looking husband, a daughter, horses and lots of friends. But all isn't as idyllic as she thinks when her husband takes up with a girl from the perfume counter (Joan Crawford) and her friends, led by cousin Sylvia (Rosalind Russell) make it their business to interfere.
The twist in The Women is that there is never a male on the screen. Director George Cukor, working from a script by top writers, tells the whole story solely with women onscreen.
1930s women, despite their gains, were still tied to their husbands, not as obvious property, but by their reliance on the men for money and position.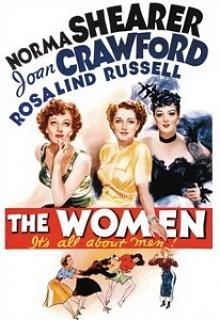 Mary, being married, is Mrs Stephen Haines, a sort of women's auxilliary to the real person. This reliance brings her downfall when her husband strays and she decides to divorce him, despite her mother's advice.
Surrounding Mary are married friends of various types, but all women who spend their time with lunches and beauty treatments and supervising servants. This movie is a biting satire, and since it is only women on the screen, it is a satire on the concerns and behaviours of 1930s women -- and none too kind.
The women is black-and-white with a short 'preview' fashion show in colour. It has dated, like Reno divorces, but it still has the power to interest and amuse. Recommended as is the 2008 remake .
by Ali Kayn
Australian release 1939
For credits and official site details, see below
Search Festivale for more work by the film-makers below.

See also: The Women (2008)

for movie, TV show, or person

Film commentary and upcoming movie release dates at reel-life.info

Just the facts:

Title: The Women (1939)
Written by: Clare Boothe Luce (play) (as Clare Boothe); Anita Loos (screenplay) and Jane Murfin (screenplay); F. Scott Fitzgerald uncredited and Donald Ogden Stewart uncredited
Directed by: George Cukor
Running time: 133 mins
Rating:

---

The Players: Norma Shearer, Rosalind Russell, Joan Crawford, Marjorie Main

---

Official website:
IMDb entry

---

For session times of current films, use the cinema listings on the Movie links page. For scheduled release dates, see the coming attractions section.

For more information about this movie, check out the internet movie database.
For the latest additions to Festivale, check out the change history section.