A Reel Life film section
Autumn, 2007
The Shop Around the Corner(1940) movie review
Love as it is Written
What does it matter so long as our minds meet?
A young shop sales assistant (Jimmy Stewart) answers an advertisement for a pen pal and develops a deep friendship. Meanwhile the lives of the man and his co-workers continue in their 1940s black-and-white European-style store.
In the days before the internet and chat rooms, people conversed by mail (snail mai). Men and women exchanged letters, presenting themselves as well as possible with a view to friendship or matrimony. Against the ideal woman-beyond-price with whom he corresponds, the bright, questioning shop assistant (Margaret Sullavan) who manages to get a job working under him is a constant annoyance.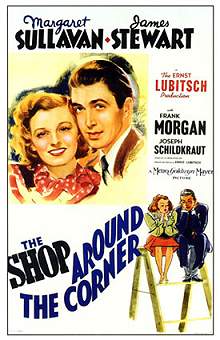 This kind of love/hate story spawned the flawed theory that love and hate are inter-related, and a thousand B-movies with a similar theme.
The Shop Around the Corner is a very human story of a type that was very popular in the mid-20th century. It still has something to say today, but the setting is very dated and that can get in the way for some viewers.
For Nora Ephron fans, this is The Shop Around the Corner, the inspiration for the very popular You've Got Mail. Worth a visit.
by Ali Kayn
Australian release 1940
For credits and official site details, see below
Search Festivale for more work by the film-makers below.

See also:Other movies about correspondents include Daddy Long Legs and the contemporary You've Got Mail.

for movie, TV show, or person

Film commentary and upcoming movie release dates at reel-life.info

Just the facts:

Title: The Shop Around the Corner (1940)
Director: Ernst Lubitsch
Writer: Samson Raphaelson (screenplay); Mikl?s L?szl? (play "Parfumerie") (as Nikolaus Laszlo); Ben Hecht uncredited
running time:

---

The Players: Jimmy Stewart, Margaret Sullavan

---

Official website:
IMDb entry


---

For session times of current films, use the cinema listings on the Movie links page. For scheduled release dates, see the coming attractions section.

For more information about this movie, check out the internet movie database.
For the latest additions to Festivale, check out the change history section.