A Reel Life film section
Autumn 2009
Way ... Way Out (1966) movie review
The fertilizer has hit the ventilator.
At the turn of the 20th century on a mythical planet called Earth, two fictitious countries the U.S.A. and the U.S.S.R. have weather stations on the moon. The world is at peace, or "at least what passes for peace".
The Russians have sent a man and a woman for the one-year assignment. The American team - a weathernaut and a astronomer have deterioriated. The Russian woman has attracted unwanted attention and now one man has tied the other up. At the last minute a conveniently American married couple end in shouts and calls to (his) mother.
Now Pete Mattemore (Jerry Lewis) has to step up, marry one of the two qualified N.A.S.A. female astronomers, and blast off into the greatest adventure a man and woman could embark upon.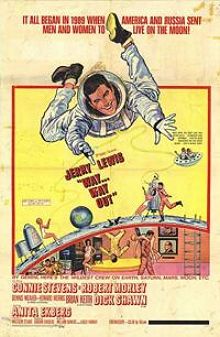 Once Upon A Time In 1989, The Americans And The Russian Went To The Moon
Eileen Forbes (Connie Stevens) is the woman who must be persuaded to go. She proposes an arranged, platonic marriage between "two intelligent people who can trust themselves".
I know I'll probably go out of my mind, but I would much going crazy with you
The sets and costumes, as well as the humour and film style are firmly of the 1960s.
Way ... Way Out is one of Lewis'less broad performance. It is easy to remember his slapstick stooge and forget that Jerry Lewis is a consumate and thoughtful professional.
This is "soft science fiction", a comedy story about people and relationships using SF to create the background and setting.
Despite the vintage of the film and the dating of the technology and style, Way ... Way Out can still provide 101 minutes of light romantic comedy.
Jerry Lewis and Lewis also appeared together in Rock-a-Bye Baby (1958)
by Ali Kayn
Released 1966
For credits and official site details, see below
Search Festivale for more work by the film-makers below.

See also: Way, Way Out; The Nutty Professor; Visit to a Small Planet
Jerry Lewis Interview


for movie, TV show, or person

Film commentary and upcoming movie release dates at reel-life.info

Just the facts:

Title: Way ... Way Out (1966)
Written by: William Bowers & Laslo Vadnay
Directed by: Gordon Douglas
running time: 101 mins

---

The Players: Jerry Lewis, Connie Stevens, Robert Morley, Anita Ekberg, James Brolin, Brian Keith,

---

Official website:
IMDb entry


---

For session times of current films, use the cinema listings on the Movie links page. For scheduled release dates, see the coming attractions section.

For more information about this movie, check out the internet movie database.
For the latest additions to Festivale, check out the change history section.