A Reel Life film section
Issue: Spring, 2005
Willy Wonka and the Chocolate Factory (1971) movie review
Tripping the Sweet Fantastic

Charlie is a boy poor in finances, but rich in family. His family lives in a shack, and his grandparents all share a big bed and a love for the little boy. Grandpa once worked at the great Chocolate Factory that churns out marvellous sweets and chocolates, but without the old workforce. What goes on behind the locked doors of Willy Wonka's factory?
A handful of children, each with his or her guardian is about to find out when Willy Wonka places golden tickets in selected Willy Wonka chocolate bars. Miracle of miracles, Charlie finds one and he and Grandpa are about to take a journey into a 'world of pure imagination'.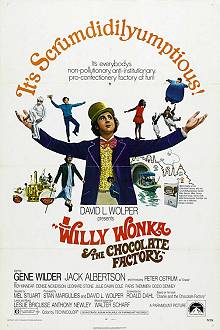 Based on the novel Charlie and the Chocolate Factory by Roald Dahl, Willy Wonka and the Chocolate Factory is a highly-coloured, fantasy-filled musical filled with incredible edible landscapes, insane equipment and wondrous small people to manage it all.
The cast is led by Gene Wilder of the exploding hair and given a firm sense of realism by the casting of Jack Albertson as Grandpa Joe. Peter Ostrum makes a nice job playing the poor-but-honest Charlie.
It's 100 minutes of good, clean, family fun.
by Ali Kayn
Australian release 30 Jun 1971
For credits and official site details, see below
Search Festivale for more work by the film-makers below.

See also:

for movie, TV show, or person

Film commentary and upcoming movie release dates at reel-life.info

Just the facts:

Title: Willy Wonka and the Chocolate Factory (1971)
Written by: Roald Dahl (novel, scr); David Seltzer (screenplay) uncredited
Directed by: Mel Stuart
Running time: 100 mins
Rating: G

---

The Players: Gene Wilder, Jack Albertson,

---

Official website:
IMDb entry

---

For session times of current films, use the cinema listings on the Movie links page. For scheduled release dates, see the coming attractions section.

For more information about this movie, check out the internet movie database.
For the latest additions to Festivale, check out the change history section.