A Reel Life film section
Issue: Autumn 2009
Splash (1984) movie review
Fishy Story

Allen Bauer (Tom Hanks) has fish in his office. He has fish in his home. But his biggest catch has come after him in the form of a mermaid (Daryl Hannah).
When she walks out of the water in front of a group of State of Liberty tourists in New York, she has Bauer's wallet, so the authorities call him. Allen is not sure who (or what) this woman is, but when a beautiful lady asks for you by name, who is going to turn her down?
She takes the name Madison and spends her few days above the sea learning English from television, learning to dress, and enjoying Allen Bauer.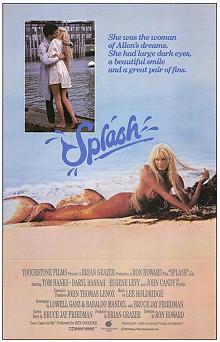 The love between an ocean-dweller and a land-dweller is an old one, but this is told in an (if you'll excuse the expression) fresh way. Bauer has a sex-mad brother (John Candy) to help and hinder him, and a genius who is seeking to prove the existence of mermaids (Eugene Levy). The antics of these two add to the comedy and provide impediments in the path to true love.
Fun. Treat it as the comedy set in the 1980s that it was, and you'll find it survives the passage of time well.
by Ali Kayn
Australian release 16 August 1984
For credits and official site details, see below
Search Festivale for more work by the film-makers below.

See also:

for movie, TV show, or person

Film commentary and upcoming movie release dates at reel-life.info

Just the facts:

Title: Splash (1984)
Written by: Brian Grazer (story); Bruce Jay Friedman(screen story);
Lowell Ganz & Babaloo Mandel & Bruce Jay Friedman (screenplay)
Directed by: Ron Howard
Running time: 111 mins
Rating: PG

---

The Players: Tom Hanks, Daryl Hannah, Eugene Levy, John Candy

---

IMDb entry

---

For session times of current films, use the cinema listings on the Movie links page. For scheduled release dates, see the coming attractions section.

For more information about this movie, check out the internet movie database.
For the latest additions to Festivale, check out the change history section.