A Reel Life film section
Issue: 2004
Spaceballs (1987) movie review
When the princess (Daphne Zuniga) of Planet Druidia is kidnapped as part of Planet Spaceball's plan to steal her planet's air, an unlikely hero emerges.
Lone Starr (Bill Pullman) and his part canine sidekick Barf (John Candy) set out in their spacefaring recreational vehicle to rescue the princess and save the day.
Spaceballs, from the pen of Mel Brooks (with Thomas Meehan & Ronny Graham), is a satire, especially of Star Wars, but of science fiction generally. Rick Moranis as Lord Dark Helmet is a small but evil version of Darth Vader while Mel Brooks takes time off being the evil President Skroob to play the mentor Yogurt.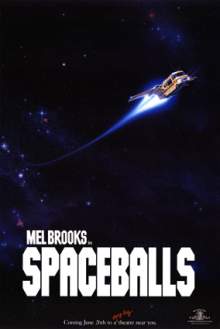 One of Mel Brooks better film efforts, Spaceballs varies from the cunningly clever to the obvious and silly, but somehow we still want the hero to win and the bad guys to get their comeupence.
by Ali Kayn
Australian release 10 December 1987
For credits and official site details, see below
Search Festivale for more work by the film-makers below.

See also:

for movie, TV show, or person

Film commentary and upcoming movie release dates at reel-life.info

Just the facts:

Title: Spaceballs (1987)
Written by: Mel Brooks & Thomas Meehan & Ronny Graham
Directed by: Mel Brooks
running time: 94 mins
rating: PG

---

The Players: Mel Brooks, John Candy, Rick Moranis, Bill Pullman, Daphne Zuniga, Dick Van Patten

---

Official website:
IMDb entry

---

For session times of current films, use the cinema listings on the Movie links page. For scheduled release dates, see the coming attractions section.

For more information about this movie, check out the internet movie database.
For the latest additions to Festivale, check out the change history section.