A Reel Life film section
Issue: Summer 2000-1
Red Planet movie review
Cmdr Kate Bowman (Carrie Anne Moss) is leading a mission to Mars. Her ship has a small crew, each with his own special interests and skills. There's even a maintenance man (Val Kilmer)to look after the guts of the ship.
On the way to Mars there are discussions on metaphysics and religion and near-encounters in the unisex showers. It's a science fictional trip in a glossy space ship. Until they get to Mars.
When they arrive at Mars in really well choreographed moments the ship is under threat and the Commander must send her men to the surface of the planet in a life pod. They will then travel to the habitat that was sent before them to start the process of colonisation.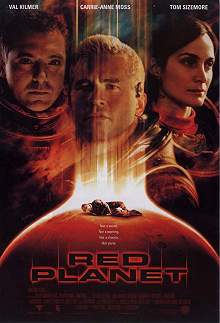 All does not go well and Bowman from her ship and the crew on the surface must find a way to survive.
This is an excellent science fiction ride. Your humble reviewer got a bit tired of the religion, but otherwise the film moved along nicely and the characters interacted in a believable way.
I don't know about the science, but the fiction was great. Recommended.
by Ali Kayn
Due for Australian release 7 December 2000
For credits and official site details, see below
Search Festivale for more work by the film-makers below.

See also: Carrie-Anne Moss (The Matrix, ); Val Kilmer (Deja Vu)

for movie, TV show, or person

Film commentary and upcoming movie release dates at reel-life.info

Just the facts:

Title: Red Planet (2000)
Written by: Chuck Pfarrer (story, scr), Jonathan Lemkin (screenplay)
Directed by: Antony Hoffman
running time:

---

The Players: Carrie-Anne Moss, Val Kilmer, Tom Sizemore, Benjamin Bratt, Simon Baker, Terence Stamp

---

Official website:
IMDb entry

---

For session times of current films, use the cinema listings on the Movie links page. For scheduled release dates, see the coming attractions section.

For more information about this movie, check out the internet movie database.
For the latest additions to Festivale, check out the change history section.