A Reel Life film section
Issue: Winter 2001
Evolution movie review
Ira (Orlando Jones) and Harry (David Duchovny) a just a couple of community college professors out to check on a meteor that's landed near their town. Imagine their surprise when chipping at the rock makes it bleed. Imagine Ira's surprise when examining the material reveals single-celled organisms. Extra-terrestrial life! Imagine Harry's surprise when the military and CDC (Julianne Moore) turn up because Ira has a history with the military as a scientist, so they've been monitoring his computer. Imagine everyone's surprise when they realise that the organism is evolving at an impossible rate -- from single-cell to primate in days.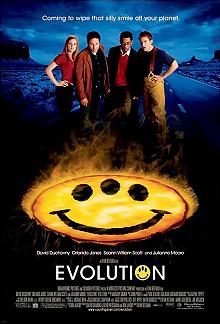 Imagine what happens in the hands on director Ivan Reitman (Ghost Busters, My Super Ex-girlfriend etc).
Evolution is a science fiction romp with a group of committed actors who throw themselves into their roles, ignoring or embracing any silliness and racing headlong to the ultimate conflagration.
This kind of science fiction comedy requires a specific touch, it needs the comedy to be delivered well and without any snideness and it needs the psuedo-science to be treated as real within the cinematic world.
Evolution does these things. It is by no means a work of profound insightfulness and it doesn't really add to the sum of human culture, but it moves along briskly and unself-consciously. This is the key, not to let us have any time to ask questions, to sweep past the cliche of the female scientist who trips over air (see also Reitman's Junior), and hurry us with the characters towards their resolution.
They're going to save the world. Despite themselves. Fun.
by Ali Kayn
Due for Australian release 12 July 2001
For credits and official site details, see below
Search Festivale for more work by the film-makers below.

See also:
Directed by Reitman: My Super Ex-Girlfriend (2006); Evolution (2001) ; Six Days Seven Nights (1998) ;Fathers' Day (1997) ;Junior (1994);Dave (1993) ;Kindergarten Cop (1990) ;Ghostbusters II (1989) ;Twins (1988);Legal Eagles (1986) ;Ghost Busters (1984)

for movie, TV show, or person

Film commentary and upcoming movie release dates at reel-life.info

Just the facts:

Title: Evolution (2001)
Written by: David Diamond (screenplay) & David Weissman (screenplay) and Don Jakoby (story, screenplay)
Directed by: Ivan Reitman
running time: 101 mins
rating: PG

---

The Players: David Duchovny, Julianne Moore, Orlando Jones, Seann William Scott, Dan Aykroyd, Richard Moll

---

Official website:
IMDb entry



---

For session times of current films, use the cinema listings on the Movie links page. For scheduled release dates, see the coming attractions section.

For more information about this movie, check out the internet movie database.
For the latest additions to Festivale, check out the change history section.