A Reel Life film section
Issue: Winter 2001
Kill Me Later movie review
Fun on the Run
Shawn Holloway (Selma Blair) is having a bad day. She is unchallenged and disenchanted by her job as a loan officer and she has just discovered that her married lover's wife is pregnant. When the bank is broken into she is on the rooftop contemplating suicide. The threats of the bank robber (Max Beesley) Charlie Anders are welcome, not frightening. She agrees to help him escape providing that he Kills Her Later.
Will the two strangers bond in their adventurous escape from the police?
A slick and edgy film production, Kill Me Later is a caper film with a dark side. Shawn's depression meets Charlie's plans for a better life when they join forces. The result is fast-paced and highly entertaining.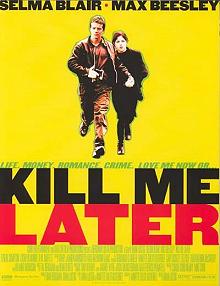 by Ali Kayn
Due for Australian release 14 September 2001
For credits and official site details, see below
Search Festivale for more work by the film-makers below.

See also:

for movie, TV show, or person

Film commentary and upcoming movie release dates at reel-life.info

Just the facts:

Title: Kill Me Later (2001)
Written by: Dana Lustig (story) & Annette Goliti Gutierrez (story); Annette Goliti Gutierrez (screenplay); Mar?a Ripoll (short film "Kill Me Later")
Directed by: Dana Lustig
running time: 89 mins
rating: M

---

The Players: Selma Blair; Max Beesley; O'Neal Compton; Lochlyn Munro

---

Official website:

IMDb entry

---

For session times of current films, use the cinema listings on the Movie links page. For scheduled release dates, see the coming attractions section.

For more information about this movie, check out the internet movie database.
For the latest additions to Festivale, check out the change history section.