A Reel Life film section
Issue: 2001
Serendipity(2001) movie review
"Fate sends us little signs and it's how we read the signs that determines whether we're happy or not"
So says Sarah (Kate Beckinsale) when she and Jonathan (John Cusack) meet one snowy December in New York. Each is shopping for black gloves. Each is in a relationship. But they spend one meal together, they share a New York evening and at the end she insists that they leave their future in the hands of the fates.
He writes his name and number for her on a five-dollar bill, then she spends it. She writes her name and number on the fly-leaf of the book she is reading, then sells the book the next day.
Will they find one another again? Should they?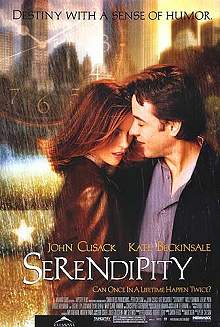 Serendipity is a romantic comedy that emphasises the human, rather than playing the story for laughs.
It asks us if there is a difference between naivety and charm, whether youthful belief is enough, or whether we need to make our lives happen.
Serendipity has a strong cast who are willing to play human characters flaws and all without over-performing. The result is amusing and heartwarming and well-paced. John Corbett as Lars the new age musician is particularly well played. He could so easily be an embarrassment, but he is just open. Molly Shannon and Jeremy Piven earn their salary as the best friends who are so important in romantic comedies.
Altogether a nice way to spend a couple of hours.
by Ali Kayn
Due for Australian release 17 January 2002
For credits and official site details, see below
Search Festivale for more work by the film-makers below.

See also:

for movie, TV show, or person

Film commentary and upcoming movie release dates at reel-life.info

Just the facts:

Title: Serendipity (2001)
Written by: Marc Klein
Directed by: Peter Chelsom
running time: 90 mins

---

The Players: John Cusack, Kate Beckinsale, Jeremy Piven , John Corbett, Molly Shannon

---

Official website:
IMDb entry

---

For session times of current films, use the cinema listings on the Movie links page. For scheduled release dates, see the coming attractions section.

For more information about this movie, check out the internet movie database.
For the latest additions to Festivale, check out the change history section.