A Reel Life film section
Issue: Winter 2003
Finding Nemo (2003) movie review
Family Quest

When his son Nemo is captured, a timid clownfish searches for him.
This is an animated children's film that is beautiful to look at and plotted with the usual adventure encounters to amuse the family audience.
The mixture of humour and pathos works well here and the story is satisfying for the adult audience as well as for the children. It is better-timed than many adult pictures, our attention is caught and kept, and that is the aim of a good story.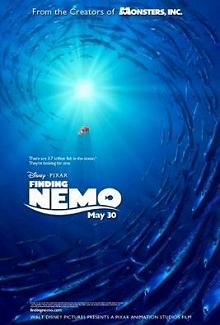 71% of the Earth's surface is covered by water. That's a lot of space to find one fish.
by Ali Kayn
Due for Australian release 28 August 2003
For credits and official site details, see below
Search Festivale for more work by the film-makers below.

See also: Toy Story, Toy Story 2

for movie, TV show, or person

Film commentary and upcoming movie release dates at reel-life.info

Just the facts:

Title: Finding Nemo (2003)
Written by: Andrew Stanton (story) Andrew Stanton (screenplay) & Bob Peterson (screenplay) & David Reynolds (screenplay)
Directed by: Andrew Stanton, Lee Unkrich (co-director)
running time:

---

The Players: Albert Brooks, Ellen DeGeneres, Alexandre Gould, Willem Dafoe, Allison Janney, Austin Pendleton, Stephen Root, Vicki Lewis, Geoffrey Rush, Elizabeth Perkins, Eric Bana, Barry Humphries

---

Official website:
IMDb entry

---

For session times of current films, use the cinema listings on the Movie links page. For scheduled release dates, see the coming attractions section.

For more information about this movie, check out the internet movie database.
For the latest additions to Festivale, check out the change history section.