A Reel Life film section
Issue: Spring, 2005
In Her Shoes (2005) movie review
Her Sister's Keeper

Two sisters, one a responsible frumpy workaholic lawyaer (Collette), the other a barely-literate blonde bimbo without morals or conscience (Diaz) each find a new life and purpose, and rediscover the value of their relationship.
Two sisters, one love of shoes. Two sisters, two lives in need of rescue.
Rose (Collette) works hard and long and dreams of love. She fills her life and cupboard with an impressive collection of shoes that she loves for their appearance, and for their romantic promise. Her sister Maggie fills her life with casual encounters and dead-end jobs.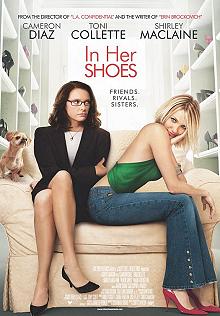 When their paths intersect, Maggie breaks up a burgeoning romance in Rose's life and creates chaos in both their lives. Maggie heads to Grandma's retirement village home where she rapidly discovers that a hard body and cute hair cut are not enough.
Told with affection and more than a single nod to iconis movie moments, In Her Shoes is an interesting and entertaining way to pass the time. All the characters have flaws and strengths, we want them to find a successful life for themselves. We cheer when Maggie is told to clean up her own mess and discovers that she does, indeed have a saleable talent with her clothes on.
Well worth the time, In Her Shoes has actual characters in and actual story, following the dictum that a good story tells the tale of the most important moments of the character's lives. Worthwhile without being heavily worthy -- there should be more like this.