A Reel Life film section
Summer 2006-7
Catch and Release movie review
Gray (Jennifer Garner) has lost her fiancé Grady shortly before the planned wedding. She must deal with her grief, her abbreviated plans, and a house she can't afford to live in. She finds friendship and companionship with Grady's friends (including Kevin Smith), and moves into his old bedroom.
In the midst of this arrives Maureen (Juliette Lewis) whose child Grady has been supporting. Slowly Gray must come to terms with secrets in Grady's life as she makes her own way in a life without him.
Catch and Release is firmly set in Denver, Colorado. A biking, fishing, outdoor place where the characters are shown in sharp relief to the landscape.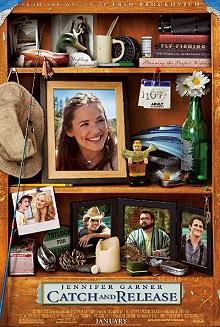 Life is messy...love is messier.
There are very human moments of comedy, tragedy, friendship and unfairness while the characters come to grips with their loss and the surprises. Shades of The Big Chill, but with a very different feel.
Beautiful to look at, gently told, but never morbid or slow to move.
by Ali Kayn
Due for Australian release 27 Jan 2007
For credits and official site details, see below
Search Festivale for more work by the film-makers below.

See also: The Big Chill

for movie, TV show, or person

Film commentary and upcoming movie release dates at reel-life.info

Just the facts:

Title: Catch and Release (2006)
Written by: Susannah Grant
Directed by: Susannah Grant
running time: 124 mins
rating: M

---

The Players: Jennifer Garner, Timothy Olyphant, Sam Jaeger, Kevin Smith, Juliette Lewis, Fiona Shaw

---

IMDb entry

---

For session times of current films, use the cinema listings on the Movie links page. For scheduled release dates, see the coming attractions section.

For more information about this movie, check out the internet movie database.
For the latest additions to Festivale, check out the change history section.