A Reel Life film section
Issue: Summer 2007
If I Had Known I Was a Genius movie review
I'm just a guy who went for a dream, took the risk and fell on his ass.
A young boy, nicknamed 'ugly' by his mother, but loved by his father, moves in and out of places where he is accepted when his high IQ is identified (but not revealed to him).
If I Had Known I Was a Genius is a quiet little film told from the point of view of Michael, a boy who is often uncomfortable and even picked-upon. It follows him through his school years and a short-lived career in television until he finds himself working for a supermarket chain.
Here I am, small head and all.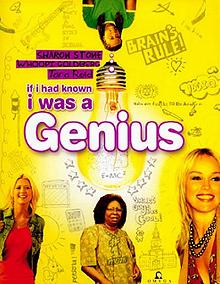 Scriptwriter Markus Redmond plays Michael, giving first person narration, holding hand-written cards to signify changes in place and dates, explaining from the beginning that he is telling his story from the relative comfort of his 26-year-old self.
All the other characters accept the large-scale man playing the growing boy, and it works well, especially with the narration. Talking into the camera is something that, done well, is very compelling (for example, KUFFS). Here it is done well.
Michael's story is one that anyone can relate to -- the feeling of being out of place is experienced by everyone at some time. For Michael he is picked on by mother and sister, he moves into schools where is different, even outcast, he is black, and he is brilliant.
If I Had Known I Was a Genius needs tighter editing, there is a tendency to indulge scenes that need to be shorter, but it is well worth a look -- especially with people like Sharon Stone and Whoopi Goldberg stretching their comedic wings.
by Ali Kayn
Due for Australian release ?; Released Sundance Jan 2007
For credits and official site details, see below
Search Festivale for more work by the film-makers below.

See also:

for movie, TV show, or person

Film commentary and upcoming movie release dates at reel-life.info

Just the facts:

Title: If I Had Known I Was a Genius (2007)
Written by: Markus Redmond
Directed by: Dominique Wirtschafter
running time: 102 mins

---

The Players: Markus Redmond, Whoopi Goldberg, Tara Reid, Sharon Stone,

---

Official website: Official site
IMDB: IMDb entry


---

For session times of current films, use the cinema listings on the Movie links page. For scheduled release dates, see the coming attractions section.

For more information about this movie, check out the internet movie database.
For the latest additions to Festivale, check out the change history section.