A Reel Life film section
Issue: Autumn 2007
Spider-man 3 (2007) movie review
It's teen angst again when Peter Parker is infected by a symbiote and the urge to wreak revenge on his uncle's killer. Mary Jane, meanwhile, finds Peter isn't aware of her own struggles.
Spidey (Tobey Maguire) is the hero of New York, but things can only get worse. Of course. The SPIDER-MAN franchise in MCU is very much about the nerd who doesn't fit in, and the girl he loves. SPIDER-MAN 3 has more story than SPIDER-MAN 2, but it is still a combination of cliched seen-it-before.
Dunst does some lovely singing as M.J., which is nice, and she does demonstrate the misery of men who respond with Mr Fix-it instead of listening and empathising. Why DO they do that? Parker is so busy applying his own life to hers that he doesn't notice that her career is not going well. That could be a useful story line if any males had an epiphany and stopped treating women as fuck-ups who need a big man to tell them what to do.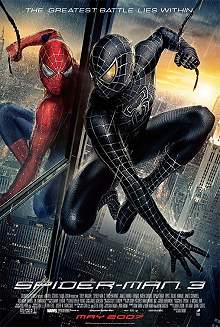 Meanwhile, Peter is tempted by the dark side, and so it goes. It's an action flick, with very broad characterisation and stories. The old aunt delivers the profound spiritual lessons, Spidey and Petey each have a nemesis, and it all ends in a huge special effects extravaganza punctuated by Dunst's screams.
SPIDER-MAN 3 is a movie to use to pass the time. It's bright and glossy and noisy and races along, but it lacks depth. It's your time, spend it your way.